Micro prism lens offers the brightest and most consistent lighting option in its class.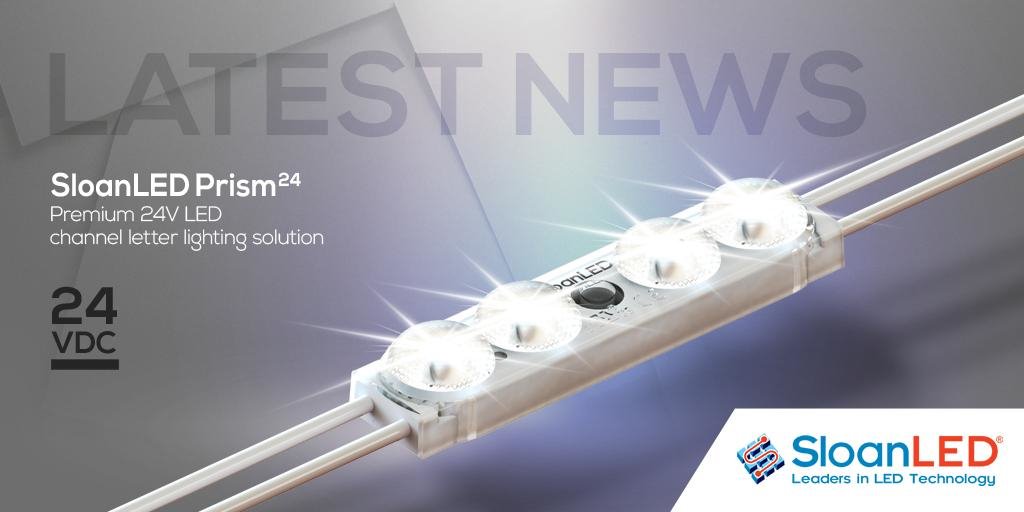 SloanLED, leaders in light technology for over 60 years, expands the SloanLED Prism product family with an innovative, 24V design making it possible to take advantage of 100W power supplies, increasing modules per power supply vs 60W 12V systems, resulting in improved return on investment and decreased labor at installation.
SloanLED Prism24, available in 7100 K, 6500 K, 5000 K, 4000 K, and 3000 K, features micro-prism lenses to deliver the widest, most even spread of illumination, dual-die technology to offer more than double the square feet of illumination, 34% higher efficacy over the existing 12V version, versatile mounting options, and our industry-leading 10-year limited warranty so your investment is well protected.
"The Prism family is our flagship product, most recognized in the industry as the benchmark for quality and performance," said Michael Bluhm, Director of Sign Product Solutions at SloanLED. "We've expanded the line to include an assortment of whites and colors, High Output, Mini (2-4″) and Nano (1″) and now 24V options that come with SloanLED's 10-year product warranty, so no matter what the application, we've got you covered."
For projects that are super competitive on costs and don't require the extensive warranty of the Prism family, VL Plus 3 offers a full spectrum of options from single-lens to duo-lens to tri-lens each delivering fast installations and lower cost per sign.
For more information about SloanLED's expanded portfolio, please visit https://sloanled.com/collection/
---
---