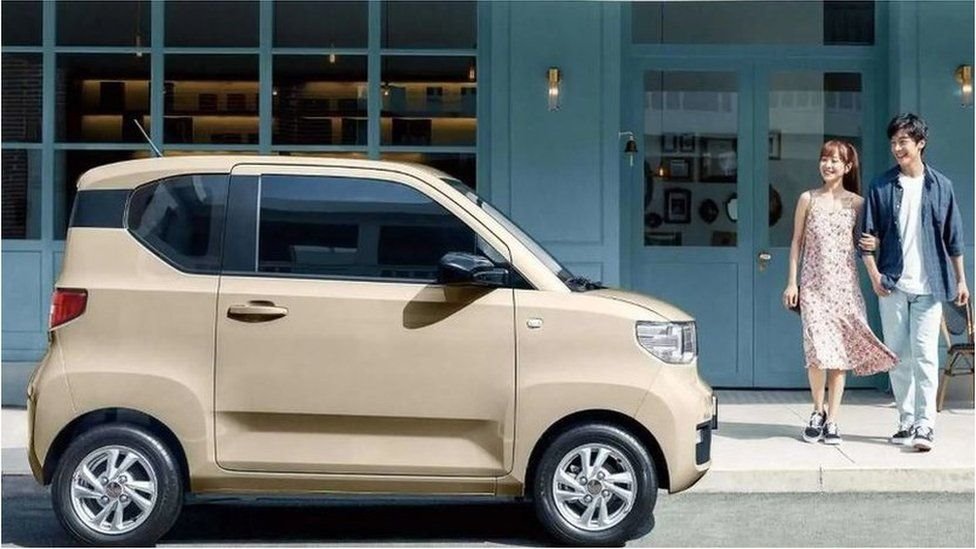 A budget electric vehicle selling in China for $4,500 (£3,200) is now outselling Tesla's more upmarket cars.
The compact car is proving a big hit for state-owned SAIC Motor, China's top automaker.
The Hong Guang Mini EV is being built as part of a joint venture with US car giant General Motors (GM). Sales of the budget electric car in China were around double those of Tesla, which was questioned this month over safety issues there.
While the $4,500 Hong Guang Mini is the most popular model, there is an upgraded one with air conditioning for just over $5,000. The cars are being marketed as "the people's commuting tool".
The joint venture partnership, SAIC-GM-Wuling, is known as Wuling locally. Car experts have said that while it clearly lags well behind Tesla when it comes to its battery, range and performance, its convenience and low price have made it one of China's bestselling "new-energy" vehicles.
Having launched last year, the basic model has a top speed of 100km/h (62mph) and can accommodate four people at a squeeze. "China's government is serious about pollution reduction and becoming the global lead in adopting and promoting innovation of electric vehicles," Shaun Rein, managing director of the China Market Research Group, told the BBC.
---
---