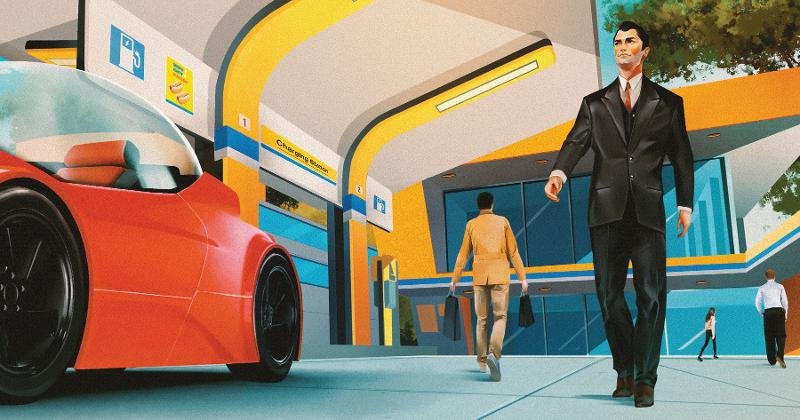 "We're ready!" That's Circle K's response to a recent General Motors commercial touting its intention to ramp up EV charging in the U.S. It features comedian Will Ferrell attacking Norway for being ahead of the U.S. on EV charging.
Norway is home to Circle K parent company Alimentation Couche-Tard Inc.'s global EV lab. Circle K has more charging points than any other fuel retailer in Norway, it says, and in some locations, it is replacing fuel dispensers with chargers.
"At our EV lab in Norway, our dedicated teams have gained years of experience in the most mature market for electric vehicles," says Hans-Olav Høidahl, executive vice president of operations for Europe. " We'll be expanding our network of high-speed chargers and home charging solutions outside Norway over the coming months and years."
Laval, Quebec-based Couche-Tard is beginning to roll out EV charging in North America, first in Quebec and then in California, with a combination of Circle K-branded chargers and partner charging solutions, the company says.
On the company's earnings call in March, Couche-Tard President and CEO Brian Hannasch said, "Electrification is the reality. I'm not sure everybody in our industry generally believes that yet, but we do. And we're preparing to face it head on. … Norway shows us that convenience and fuel sites have a role to play in the build-out of the infrastructure and that there is a business model."
Doug Haugh, president of retailer and fuel marketer Parkland USA, Charleston, S.C., says he's also ready to adapt to an EV world. He believes that the convenience-store and retail fueling industry is resilient and will adapt to changes as it always has.
"We continue to be very excited about the business we're in," he says. "We are going to play a big role in the charging infrastructure of this country."
Parkland has approximately 650 company-owned retail sites and 1,200 dealer sites in Canada. In the U.S., under Parkland USA, it has approximately 100 company-owned retail sites under several brands, as well as about 400 dealer sites.
"In some of our sites, [EV charging] might be a lot less important; in some of our sites, it's going to be of key importance," he says. Haugh also says the pandemic was a test for "what convenience stores look like when people aren't pulling up for a lot of fuel."
"We came out of COVID feeling really optimistic," he says. "Our in-store sales grew, some quite dramatically, despite the fact that forecourt was down. And if you look at the rosiest forecast for EVs, no one has us getting 20% demand destruction for decades.
But we had 20% demand destruction last year, so we got a preview of what it looked like when you're doing 20% less fuel. And to us, it looks pretty good."
He adds, "The same fundamentals have always driven convenience stores, and that's convenience. You've got to have a great location, you've got to be clean, you've got to have a bright offering, and if you're servicing your community effectively with that kind of offering, you're going to have a great future, no matter what the fuel is."
The transition to alternative fuels will help the planet and society, he says, "and that's not a bad thing, and we don't think it's a bad thing for our industry."
Parker's convenience stores began adding Tesla Supercharger electric vehicle (EV) fast-charging stations in late 2019, with more to come. "We're collaborating with Tesla on more locations inside of our current network of stores," says Jeff Bush, president of the Savannah, Ga.-based chain.
"We've also been exploring relationships with other EV chargers and other relationships with network providers."
Parker Corp., the parent company of Parker's, has approximately 70 locations in Georgia and South Carolina. The company has already started adjusting its business model to the changing times. Parker's is exploring partnerships with Publix, Chick-fil-A, Starbucks and others.
"If you're in the front of Costco, I think traditionally that would make people nervous. But we're doing it because we think there's going to be opportunity for us there," says Bush.
Adjusting business models and shifting to alternative fuels might seem like big changes, but for Bush, this industry is all about evolving.
"There's a natural defensive posture when you think about such a large portion of our business being disrupted by the new kid on the block. But we're also an industry that likes to openly embrace change and move forward," says Bush.
"More importantly, [retailers] don't want to lose their customers to someone else who's taken a note of what's going on and they're capitalizing on it."
Bush says the key to meeting new competitors in the convenience retail space is to become the "center of gravity" for each community the chain serves. "It's not about just offering the right products. It's not about just being in the right place. It's about all those variables put together on top of customer service experience, becoming part of the community."
Bush envisions a gradual transition to the forecourt of the future. First, EV chargers will appear where ethanol fuel dispensers sit at the end of the line today, he says. After 15 to 20 years, Bush says the fuel dispensers and EV chargers will switch, giving EV charging more prominence. However, gasoline dispensers will remain in some form for quite a while.
Once EV charging is the primary fuel offer, changes to the c-store layout will not end at the forecourt, says Bush. He predicts c-stores will become "neighbourhood markets" with an expanded line of products and services. "Maybe there's a gym next door or a dry cleaner… maybe there's a park next door," says Bush.
When considering the future of fuels, Bush says he starts with one question: What if?
"If you're asking the 'what if' question, it doesn't mean you go and invest in the infrastructure tomorrow. But it at least gives you these case studies—these scenarios that you can rely on," he says.
According to John Eichberger, executive director of the Fuels Institute, Alexandria, Va., meeting the demand for EV charging doesn't necessarily mean placing the most powerful chargers everywhere. "There's a disconnect between how many charging stations we need and what type of charging stations we need where," he says. "We don't know the answer to that."
Eichberger says it would be "overkill" to simply build as many 350-kilowatt EV fast-charging stations as possible.
"We need to identify and develop very specific use-case scenarios where we can evaluate what the consumer behavior is, what their needs are at different locations, and then put chargers at those locations that fit those needs," he says.
"So maybe you need a level two charger in some places, maybe a 50-kilowatt battery buffer charger elsewhere, and maybe on the highway you need 150 to 350 kilowatts. If we can optimize the deployment, we can reduce the cost of installation and accelerate the ROI."
Eichberger also weighs in the fact that EVs can be charged at many more locations than traditional gas stations. Chargers will be everywhere, including homes, offices, grocery stores, parks, restaurants and more. The key for c-stores to stay competitive in the EV fueling market will be quick trips—instances in which consumers need a fast charge and need to be on their way as soon as possible, says Eichberger.
To adjust, c-stores will have to shift the focus of their business from the forecourt to the store itself, he says, noting that it's possible that the drop in gasoline demand may mean fewer gas stations in the future.
"In the forecourt, we really need to diversify. We need to think more broadly about who we are," says Eichberger. Even beyond electricity, he says the industry should at least consider hydrogen, biodiesel and other alternative fuels. Maybe, he says, the forecourt of the future is behind the store, placing less emphasis on the fuel offer.
Even if retailers cannot afford to install EV charging stations in their forecourt today, Eichberger says, they can at least build forecourts and parking lots with the room and wiring to install chargers in the future. "Trench out in the conduit at the potential parking spaces where you can ultimately put a charger," says Eichberger. "Do the work up front when it's less expensive, so you can retrofit."
---
---