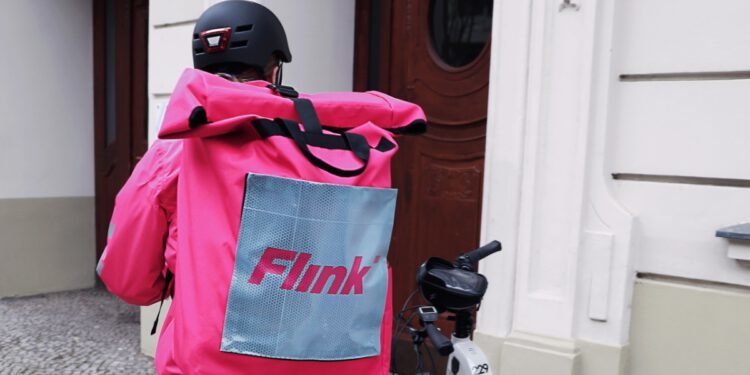 Berlin-based Flink, an online grocery and food e-commerce operator, announced that it has bagged $240M (approx €198M) in a fresh round of funding led by new investors Prosus, BOND, and Mubadala Capital.
The funding news also follows a strategic partnership agreed with REWE Group – one of the largest supermarket chains across Germany.
Flink is an instant grocery delivery service which delivers groceries within 10 minutes and at supermarket prices. The platform claims to provide a broad range of top brands and fresh organic products. Flink supports local products, uses sustainable packaging, and delivers on e-bikes.
The company was founded in December 2020 by Oliver Merkel, Julian Dames, and Christoph Cordes. With more than 40 years of experience in retail (online and offline), Flink's team combines a strong group of senior executives who focus on various functions of the company.
Flink's Founder Oliver Merkel says, "We are on a mission to give people back some of their valuable time during their hectic days and impress them with our service every time they order. We want to establish Flink as the top destination for their day-to-day goods at great prices and with instant delivery by our amazing riders.
The order growth we have seen over the past weeks has been explosive and we attribute that to the excellent service we are providing to our consumers."
The company has more than 50 hubs in 18 cities open after 4 months of operations, reaching more than three million customers directly. Additionally, Flink is also rolling out one new hub every two days. Of late, the battle for online food and grocery delivery domination has been in Europe, especially in Germany.
According to Amer Alaily of Mubadala Capital, "The grocery retail market in Germany is one of the largest non digitised markets at only 3 per cent online penetration. We believe that the grocery store of the future will be hyper-local, instantly available, and always delighting its customers."
Flink too believes Germany's food delivery market is slowly shifting online and hence the company wants to quickly ramp up its operations across all dimensions. Currently, the company delivers more than 2,400 different products to customers.
According to the company, it is witnessing a surge in retention rate of its customers who are now ordering twice a week or more. At the same time, Flink also keeps expanding its product range each week with the goal to supply customers with their beloved national brands, organic products, and local hero brands.
Larry Illg, CEO of Food Delivery at Prosus, says, "The opportunity that exists for online grocery delivery is vast, with the grocery market in Germany alone expected to reach more than €300B in the coming years. The past year has seen many new players entering the nascent market, vying to fulfill the increasing consumer demands."
Last month, Amsterdam-based Just Eat Takeaway, a food ordering and delivery company, announced that it would launch a supermarket delivery service in Germany via its Lieferando.de service. Besides Just Eat Takeaway, two of its major competitors Berlin-based Delivery Hero – via its brand Foodpanda, and US-based UberEats have announced their plans to launch their services in Germany.
Delivery Hero believes the customer demand in Germany has increased and hence to re-enter the market could be a huge opportunity for the company. Its brand Foodpanda is first starting with a soft launch in the center of Berlin in June, and plans to expand operations to more German cities after an official launch on 10th August 2021.
According to Delivery Hero, by August, it will officially enter the German delivery scene with its full platform offering: from restaurant food to quick commerce, including Dmarts (small warehouses in the city center) and local shops.
"In order to fulfill its mission to deliver anything locally, the company will also roll out its quick commerce operations and establish partnerships with local stores. Furthermore, Delivery Hero will be opening its own Dmarts with the goal to deliver groceries and convenience items in as fast as 7 minutes. The Group also plans to launch cloud kitchens and restaurant concepts," says the company.
Illg adds, "Flink comes to the market offering ultra-fast delivery of items, mostly under 10 minutes, getting consumers what they need almost immediately.
According to Flink, "Quick delivery models like Flink offer higher margins and aim to transform the way customers think about grocery shopping. Quick delivery models are helping consumers move away from bulk and scheduled shopping into everyday shopping with a broad selection of products and with better customer service."
---
---