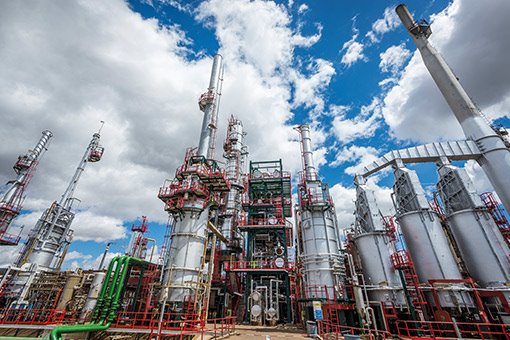 Refineries around Europe are restarting as the spring maintenance season comes to an end and economics steadily improve, but not all fuel markets are equally prepared to absorb the additional production.
Spain's integrated Repsol will rehire laid-off workers at its 135,000 b/d Puertollano refinery near Madrid on 21 June ahead of restarting production. The temporary lay offs had been scheduled to last a further three months, but the company said that road fuel demand has picked up with Spain's vaccination campaign resulting in falling Covid-19 rates.
Other restarts include the Eni-KPC 235,000 b/d Milazzo refinery in Sicily after maintenance, and TotalEnergies, formerly Total, has restarted the crude distillation unit (CDU) at its 240,000 b/d Gonfreville refinery, France's largest, 18 months after it was taken offline by a fire.
This most likely means utilisation in the European refining sector will rise from May, when a late flush of maintenance works cut EU-15 and Norway usage by three percentage points month-on-month to around 71pc, according to Euroilstock data and Argus research. That is around 10 points below pre-pandemic norms.
The gains mark a substantial change from earlier in the pandemic, when many refineries in Europe were struggling to a turn a profit with margins failing to match operating costs of around $5-6/bl. Trading firm Gunvor last year mothballed its 115,000 b/d Antwerp refinery in Belgium because it would be not able to turn a profit in the near future.
But fuel demand is still a long way off 2019 levels, and rising refinery output will slow any recovery in prices. French diesel demand in May was 37pc up on 2020 but 13pc below 2019, according to industry association UFIP. French gasoline demand has made a fuller recovery, being 57pc up on 2020, but still 6pc down from 2019.
Extremely subdued jet fuel demand is the main problem facing refineries. One eastern Mediterranean refiner commented this week that they still face a bottleneck in jet production, with limited storage capacity and consumer demand a small fraction of pre-pandemic levels.
French jet demand in May was 64pc below 2019 levels. Diesel traders in the Mediterranean report that cargoes are pushing against the specified minimum density, because of kerosine being blended heavily into the pool.
Traders say that refineries are unlikely to ramp up fully until demand justifies it. And uncertainty over lockdown measures could make it difficult for refiners to plan ahead, and with demand for different fuels following different trajectories refiners could still face tough decisions.
It remains to be seen when Repsol, for example, will rehire the workers temporarily laid off at two of its other Spanish refineries.
---
---