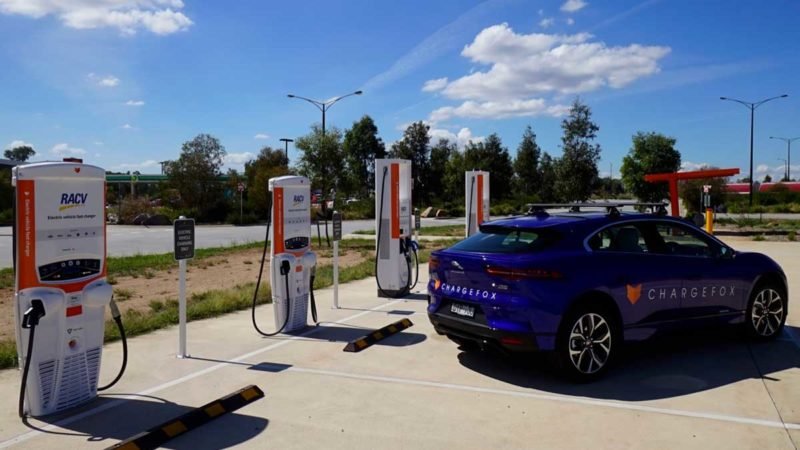 Australian electric vehicle charging network provider Chargefox has announced it will have 5,000 plugs available by the end of 2025, a significant expansion of its current Australian network.
Chargefox currently manages more than 1,400 private charging plugs across Australia, 850 of which are publicly available. 300 of these are DC fast charger outlets at 100 locations.
Currently, 22 of its DC fast chargers are 350kW ultra-rapid chargers that can add up to 400km of driving range to an electric vehicle in 15 minutes, as long as that vehicle is capable of charging at that speed (currently the Porsche Taycan is fastest charging vehicle in Australia at 270kW, but it will be pipped by the Hyundai Ioniq 5 and Kia EV6 when they arrive in coming months).
The news of the latest Chargefox expansion comes hot on the heels of the NSW government commitment to support the adoption of electric vehicles with a $490 million plan that will see drivers get $3,000 rebates for the purchase of new vehicles, the government's 12,000-strong fleet transition to electric by 2030 and $171 million put towards more charging infrastructure.
"In 2018 Chargefox built Australia's first-ever ultra-rapid station, and since then our network has grown to over 850 plugs," Chargefox CEO Marty Andrews said in a statement to The Driven.
"Our goal is to connect the infrastructure needed to help mass EV uptake and reduce road transport emissions. We've made significant progress over the past few years, having powered more than 5 million carbon-free kms and abating around 1500 tonnes of carbon emissions.
"Today's milestone announcement means we're giving EV drivers across the country confidence that 5,000 charging options will be available. We'll also continue our commitment to using 100% renewable energy where possible. It's a big day for the industry.z"
Chargefox says news of the expansion of the network has been met warmly by Mercedes-Benz, BMW, Porsche, Jaguar, Nissan and Audi – all of which have complimentary charging deals with the network for new EV owners. Members of motorists associations also get a discount for using the Chargefox network.
---
---