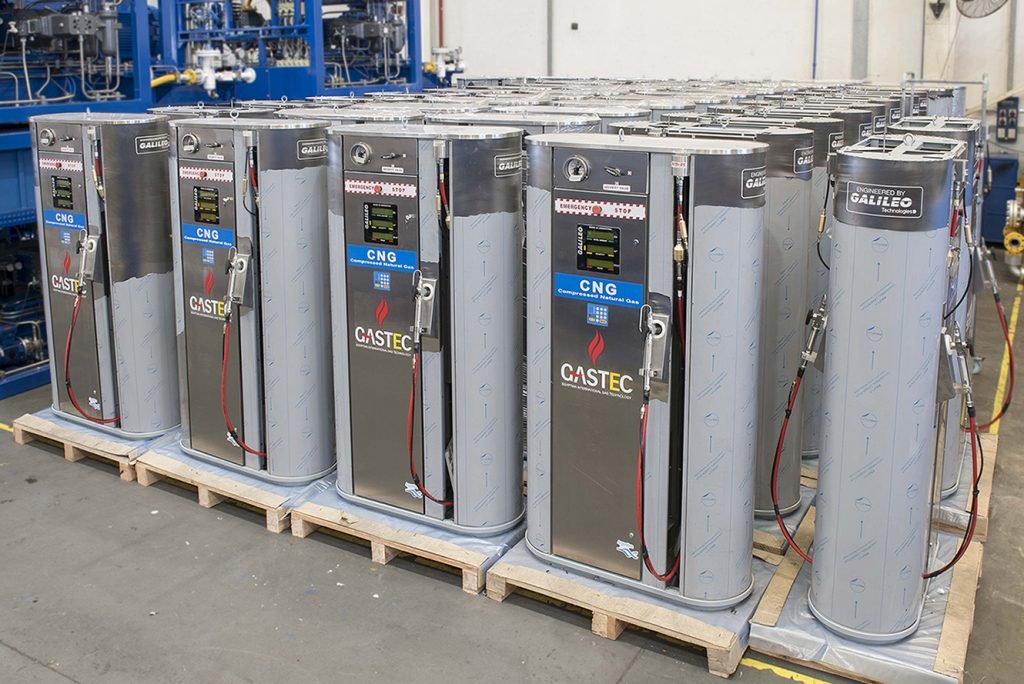 Galileo Technologies will supply 500 Compressed Natural Gas (CNG) pumps and 200 Microbox Core MX200 compressor packages to Egypt.
They will equip the stations of the companies with state participation NGVC and GASTEC, dedicated to vehicular natural gas.
The Ministry of Oil and Mineral Resources of Egypt seeks to make the country independent of liquid fuels and replace them with natural gas, a cheaper alternative that reduces polluting emissions and which it has in abundance in its territory.
To achieve this, it plans to increase the number of CNG filling stations from 306 to 1,000 by the end of 2021.
The agreement between Galileo Technologies and the companies with state participation GASTEC and NGVC is part of this initiative and was closed in January 2021, giving way to the engineering stage and the manufacture of the 30 kg / min CNG dispensers and the compressor packages.
The first deliveries of equipment were made in May and will continue until the end of the year. The maximum peak of production will be in July and, according to schedule, 220 pumps and 50 compressors will be manufactured in one month.
"The equipment will be installed in new stations exclusively destined to CNG loading and distributed throughout Egypt. GASTEC will install 271 pumps and 100 compressor packages, while NGVC will have 229 pumps and 100 compressor packages.
We are convinced that our plug-and-play design teams are the right solution for the rapid deployment of CNG stations and we are very grateful for the trust that GASTEC and NGVC have placed in Galileo ", assured Gabriel Lorenzi, Galileo's Vice President of Sales Technologies for Africa and the Middle East.
Thanks to this agreement, the Egyptian government will carry out its plan to offer cleaner fuel, convert vehicles and create a fleet of zero kilometer vehicles that are manufactured to run on CNG. Currently, 360,000 CNG cars already circulate in that country and it is expected to reach 768,000 by the end of 2023.
Since 1987, Galileo Technologies has been a world benchmark in modular CNG, LNG, Bio-CNG and Bio-LNG production and transportation technologies.
Its product portfolio includes a wide range of compressor packages, gas conditioning plants and liquefaction stations, as well as the Virtual Gas Pipeline system, for the delivery of gas by road to remote communities and industries without connection to the network.
With headquarters in Buenos Aires and New Jersey, and a global service and training hub in Los Angeles, Galileo Technologies provides permanent assistance to 70 countries in Latin America, North America, Europe, Asia and Africa.
---
---