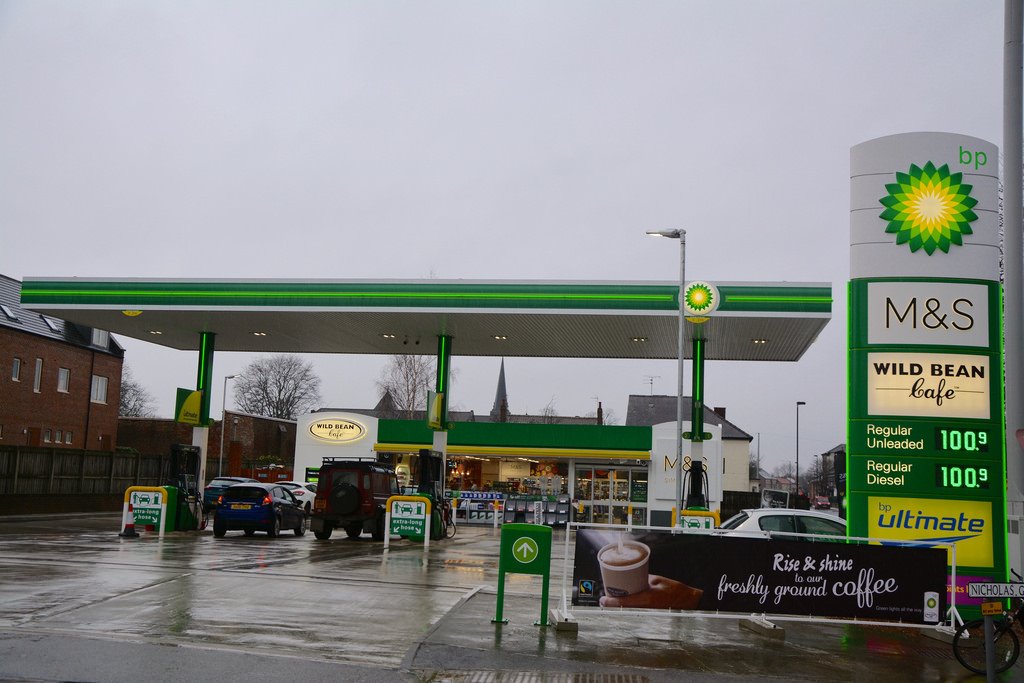 Oil giant BP last year admitted that half the customers at its forecourts in Britain don't even buy petrol — 12 years after it joined forces with Marks & Spencer to sell its wares and share the profits.
This shift in shoppers' behaviour, and indeed perception, as they no longer think of petrol stations as places where you merely get fuel and pick up a newspaper, is turning roadside retailers into serious competitors to traditional corner shops. And their owners, a mix of independents, private equity firms and oil giants, are hungry for more.
Of the 8430 forecourts in the UK, just 796 don't have a store or kiosk on site. Independents are investing apace — £12,500 on average last year, according to industry data — to jazz up their stores, add services such as click-and-collect, dry-cleaning or even Amazon lockers, and have a post office or a mini-chemist on site.
"A lot have tried to improve their offer to capture some of the revenue that comes with convenience and the natural footfall that it would get," says Ian Gilmartin, head of retail at Barclays. This rings true especially in the face of the tumbling oil price of recent years — now ticking back up again — with customers prepared to do more shopping on the go.
What's more, forecourts are the fastest-growing part within the convenience retailing sector, says James Lowman, chief executive of the Association of Convenience Stores (ACS). Alongside the discounters and the online grocers, they are also gobbling up market share from incumbents.
Admittedly, however, growth has been coming from a relatively low base. "A few years ago, many of the stores were a bit tired. It wasn't always a pleasant shopping experience. If you went in there, the coffee might not be great, the food would be nothing to write home about," Gilmartin adds.
Although the number of forecourts has declined decade on decade as they have become less profitable, sites raked in £4 billion in sales from shops last year, and revenues are on the up. Typically, convenience trumps price, which means forecourt retailers often charge more, in some cases doubling the margins of their High Street rivals.
In February, Motor Fuel Group (MFG), Britain's second-largest independent forecourt operator — owned by private equity house Clayton Dubilier & Rice, where former Tesco boss Sir Terry Leahy is an adviser — bought MRH, the largest forecourt retailer, for £1.2 billion.
Together, they will have 900 company-owned and franchise-operated sites and will manage fuel, convenience and food brands such as Budgens, Greggs and Subway. Britain's EG Group, another major independent player, also snapped up American supermarket giant Kroger's convenience-store business in February for $2.15 billion (£1.6 billion) to try to replicate over the pond what it has done at home: boost shop sales to offset the deteriorating fuel revenue.
Oil giants also focused on their convenience offer last year. BP has expanded its M&S Simply Food to the majority of its 300 sites while Shell has quietly upped the number of its properties that have a Waitrose. Shell's recent trial with convenience brand Budgens is going well, it says.
Talking about how dynamic the sector has been in recent years, Gilmartin adds: "It has been an uplifting story within the UK economy at a time when there is a lot of negativity around retail."
The forecourt sector employs about 110,000 people. But amid the consolidation some are not prepared to let go. Take property tycoon and industry veteran Gerald Ronson, who pioneered self-service petrol stations in the mid-Sixties, for example. He and his family own Rontec, one of Britain's largest independent forecourt players.
He says: "We aren't sellers of our business. I do get approached every few weeks but they know. They say, 'Ronson is going to take his business to his grave'. I love that business.
It's in my blood." Ronson, too, has invested "a lot of money" in revamping his 200-strong sites over the past four years as well as developing his own chain of stores Shop'N Drive, stocking 5000 products "minimum, "Eggs, bread, bacon, chilled meals —that's where most of the growth is," he says. "It's lucrative if you have the right site and you're not just relying on petrol or diesel sales."
He is expanding some of his properties to accommodate Rontec's tie-ups with the likes of grocers Morrisons and Spar and coffee chain Costa. It currently has 46 Morrisons and may double that this year. "We have a very successful business. It generates a lot of cash," adds Ronson, who expects revenues of £1.6 billion this year.
In contrast, Sainsbury's decided in February to pull the plug on its franchise deal with Euro Garages after two years. People close to the businesses said at the time that it hadn't lived up to either side's hopes.
That was before the mega-deal between Sainsbury's and Asda was announced. The two grocers' existing fuel forecourts could be captured as part of the competition watchdog's review to allay fears that the union would affect competition.
With cars being increasingly more efficient and the Government's looming ban on new petrol and diesel motors from 2040, forecourts' foray into retail and services could prove not only a money-maker but also their saving grace longer-term. Will the petrol stations of the future even sell fuel?
"The technology [to power] cars is moving so quickly, it's very difficult to know which rules to back. It's on every forecourt operator's agenda but they don't know what investment to make," said ACS's Lowman. "It will affect some people."
---
---