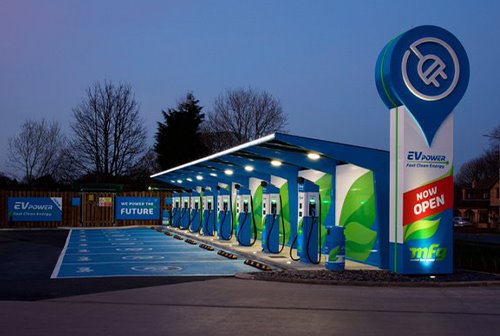 More than 350 ultra-rapid chargers to be installed at firm's petrol stations and stand-alone EV hubs throughout 2022
As many as 60 new electric vehicle charging hubs housing more than 350 ultra-rapid chargers are set to be installed at Motor Fuel Group refuelling sites over the coming year, thanks to £50m investment.
Unveiling its EV infrastructure investment plan for 2022, the company said the new charging hubs rolled out this year would be situated both at its petrol stations and stand-alone electric car charging sites nationwide, with between four and eight rapid 150kW chargers installed at each location.
Subject to the charging capability of individual car batteries, such chargers can add 100 miles range in approximately 10 minutes charging time, the company explained.
Motor Fuel Group (MFG) also said it would soon energise a further EV charging 20 sites in 2022 that were completed in the final months of last year, and that all new sites are also being augmented with 300kW+ chargers in order to future-proof its investment as vehicle battery technology improves in the coming years, thereby enabling the hubs to "maintain the fastest charging times across the MFG network".
It forms part of MFG's plan to invest £400m in EV infastructure at its sites by the end of the decade.
Last year MFG opened its flagship forecourt in Putney and the North-West of England's first dedicated ultra-rapid EV only site in Manchester. The company said it plans will operate a dual-fuel strategy over the coming decades, continuing to provide existing fossil fuel infrastructure while placing equal importance on rolling out ultra-rapid EV charging hubs.
"We have already invested significantly, and ahead of the curve, on EV charging across our portfolio," commented MFG chief executive William Bannister. "We have an ambitious roll-out programme for 2022 which is focused on our network throughout the UK.
Our EV sites are modern in design and provide a high-quality retail and consumer experience for the community and for motorists to use whilst charging their vehicles. We look forward to delivering on our strategic plans throughout 2022."
---
---