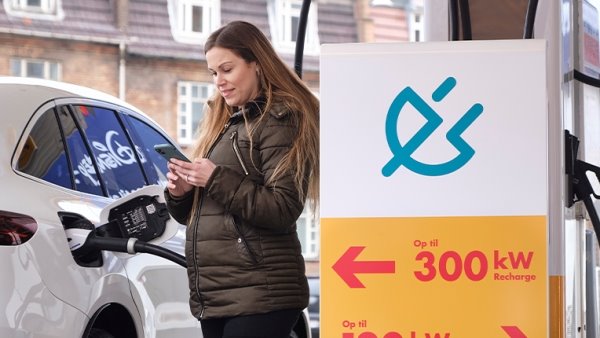 With charging solutions for private homes and companies plus a large network of lightning chargers at the Shell petrol stations, DCC Energi is now accelerating a huge investment in electric cars.
Thus, the energy company throws itself into the competition to offer Danish electric drivers a comprehensive package of charging and payment solutions that will make it safe and easy to be an electric driver.
In the first phase, lightning chargers will open at five Copenhagen petrol stations over the next few weeks, and during 2022, lightning chargers will move in side by side with petrol and diesel at petrol stations in several of the country's largest cities.
This marks the start of major investments in the growing electric car market for DCC Energi, which stands behind the country's 240 Shell gas stations. Based on a new eMobility business, the energy company will in the near future launch a complete package of solutions for Danish electric drivers.
The first step is the opening of 300 kW lightning chargers at five Copenhagen petrol stations. This is followed by the launch of charging boxes for both private individuals and companies, as well as new payment solutions and roaming agreements that will improve the charging options for the country's electric drivers.
Including a new collaboration with Shell, which in the long run gives motorists access to over 300,000 charging stations in Europe. "We have more than 100 years of experience in helping Danish drivers and companies from A to B. We naturally want to build on this in a time where electric cars are taking up more and more space. That is what we are now working on.
Right now, the biggest challenge for the electric cars is that we get to build a charging infrastructure that follows the increasing sales of electric cars.
With our network of petrol stations, we also have a unique infrastructure for the mobility of the future, which, in conjunction with charging solutions for households and companies, can contribute to driving an electric car as uncomplicated as driving a petrol or diesel car. "Says Christian Heise, CEO of DCC Energi.
The foundation of DCC Energi's eMobility concept is that electric drivers must be able to use charging stations with the same forms of payment as today.
And the price for "refueling" the electric car must be transparent across the available charging options. For example, the price sign facing the road at the Copenhagen Shell petrol stations, which will offer lightning charging, will show the daily price of one kWh together with the price of diesel and petrol.
"As the current approx. 140,000 hybrid and electric cars over the next five to seven years will become 700,000, it is crucial that consumers have easy access to the total charging infrastructure through our payment solution.
Popularly speaking, we collect everything for the car in a payment card, regardless of whether it is petrol, diesel, electricity, car wash or coffee, "explains Christian Heise.
From the start, business customers and company drivers who have a Shell Card Business will have the opportunity to get a new hybrid card for both fuel and electricity. The card can also be used for payment at other people's charging stations.
During 2022, a regular Shell Card Private will also come with the same option for payment with other providers. The same applies to payment at charging stations in Denmark and abroad, which will be ready later in the year.
---
---