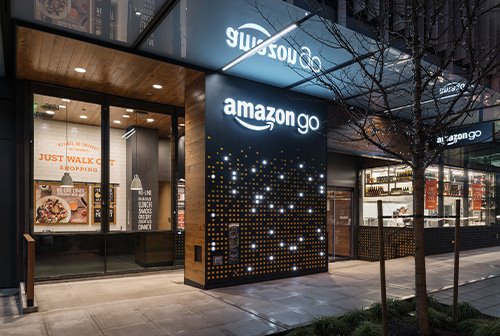 Amazon announced that it is opening an Amazon Go location with its "Just Walk Out" cashierless checkout technology in Mill Creek, Washington, a suburb about a half hour's drive outside Amazon's home city, Seattle, "in the coming months," with plans to open additional suburban locations thereafter.
"We're excited to expand our Amazon Go store portfolio with the introduction of a new Amazon Go format," the company said in a statement.
"We think local residents and commuters will enjoy the ease of our Just Walk Out shopping to quickly and conveniently shop from an expanded selection of tasty, ready-to-eat food items and grab-and-go beverages and snacks in their own neighbourhood."
With the checkout method, shoppers scan a code on their app when they enter, pick items from store shelves as usual, and then walk out of the store, and items are automatically charged to their account, registered with computer vision and sensor technology.
In the past several months, Amazon has announced plans to bring the system to its Whole Foods Market grocery brand, partnered with U.K. grocery chain Sainsbury's to open the first Just Walk Out store in London and teamed up with Starbucks to create a frictionless payment café.
Those working in frictionless checkout, who granted may have a biased perspective on the matter, say that adoption is quick, with consumers readily getting over the unfamiliarity of the shopping method in favour of the convenience.
If so, the technology could be quite successful in the suburbs, offering shoppers an alternative to the long checkout lines they may be used to and boosting sales.
"[Consumers] say that, in the beginning, it feels like stealing, but then you get addicted to the feeling," Yair Holtzer, vice president of business development at computer vision startup Trigo, told PYMNTS in an interview.
"People want the experience to be smooth as possible … You can find hundreds of studies that show that, when the experience of your shopping is better, whether it's online or physical, then the loyalty of the customer increases, the traffic of visits increases, the size of basket increases … and also the conversion for new customers increases."
In fact, the checkout method maximizes the benefits consumers look for in their self-service options. According to data from The New Retail Expectation, created in collaboration with Toshiba, which surveyed more than 2,000 U.S. adults about their checkout behaviours, the single most popular reason consumers report for using self-service checkout at grocery stores is that they believe it is faster, and the second most popular reason is that it cuts out the waiting in line.
---
---