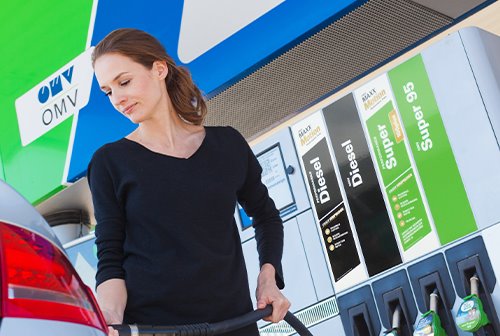 OMV is starting a unique pilot project with immediate effect: Austria's first contactless and completely digitized - unmanned - filling station.
In cooperation with the start-up company BistroBox and UNIBox, which specializes in self-service food retail, OMV is implementing the new concept at the existing filling station on Lunzerstraße in Linz and reopening it as "OMV Fastlane".
Thanks to the new self-service concept, it is possible to refuel, eat something and do the shopping at the same time, 24 hours a day. At the touch of a button, more than 1,000 groceries and products for everyday needs, as well as hot snacks, stone oven pizza fresh from the oven, or coffee-to-go are available.
The refueling process and the entire purchase are contactless and are handled digitally via touchscreens and apps. You can pay by card or smartphone. "For more than 30 years, we as OMV have offered more than an ordinary filling station. We see that our role as a local supplier is becoming increasingly important for people.
This applies in particular to regions whose gastronomy or food retail infrastructure is less well developed. With our OMV Fastlane, we are already opening the filling station of tomorrow, which as a multi-service hub responds to customer needs and offers even more flexibility and independence," says Gernot Gollner, head of the OMV filling station business in Austria.
For the convenience area, OMV is bringing the successful 24-hour pizzeria concept from the BistroBox franchise company on board.
The strong partner draws experience from the operation of around 40 other locations in Austria. "We offer over 100 products for immediate consumption," explains BistroBox co-founder and managing director Klaus Haberl.
"Using a touch display, customers can bake an oven-fresh pizza in just two minutes, along with snacks, drinks, freshly ground coffee and tobacco products. There is also a small sitting and standing area for immediate consumption of the products."
Another strong cooperation partner is UNIBox, which belongs to the Upper Austrian Unimarkt Group and is responsible for the food section of the shop.
"By registering via an app, customers gain access to this part of the shop and will find a wide range of over 900 products for their daily shopping, including high-quality organic products and – especially here at the gas station – of course various automotive liquids ", says Andreas Haider, owner and managing director of the Unimarkt Group.
"We are the digital driver in Austrian food retail and are constantly working on new ideas and developments. We are therefore very pleased to be able to implement such an innovative project together with OMV and BistroBox."
The shop is completely contactless. The digital self-service concept makes it possible to complete the entire purchase on your own by simply scanning the items via smartphone or at the terminal. With the OMV Fastlane in Linz, OMV is piloting a new filling station concept in Austria: "We also want to test our Fastlane concept at other locations.
The opening of another OMV Fastlane filling station together with BistroBox and UNIBox in Graz is already planned in the next few months," concludes Gernot Gollner, head of the filling station business in Austria.
---
---