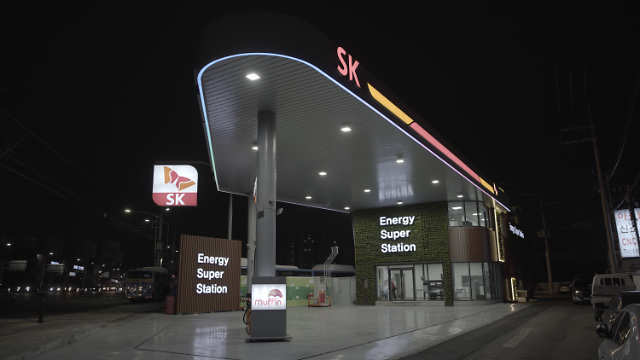 In a pilot project aimed at expanding the distribution of clean energy, South Korea opened its first total energy station that charges electric vehicles and generates electricity from fuel cells and solar power, along with fueling.
The pilot project launched by the Seoul city government and SK Energy, a top oil company in South Korea, has won government approval through a regulatory sandbox policy that exempts regulations.
Fuel cells or energy storage systems (ESSs) cannot be installed at gas stations. Due to the risk of chemical fire that is hard to put out, South Korea regulates the safety standards of ESSs used for storing energy generated by renewable energy generators.
SK Energy aims to increase the number of total energy stations to 100 in Seoul by the end of 2023. The Seoul city government said it would cooperate with other oil refiners to expand the establishment of total energy stations.
The goal is to install electric and hydrogen vehicle charging facilities at gas stations with good vehicle access and convert them into facilities that supply both existing fossil fuels and renewable energy.
"The energy superstation, which provides charging services while generating electricity, achieves the effect of killing two birds with one stone: stable power supply and smooth electric vehicle spread," said Second Vice Minister Park Ki-Young of the Ministry of Trade, Industry and Energy.
"We will spread energy superstations to create a charging infrastructure that can be charged at all times like mobile phones."
Other companies are ready to ride the bandwagon for the future with next-generation refueling services. In January 2021, an innovative electric vehicle charging station made its debut in Seoul as the first product of collaboration between SK Networks and Hyundai Motor, featuring fast chargers, a coffee lounge, a shared kitchen and an office block so that customers can enjoy a variety of cultural and other activities.
GS Caltex has launched a project to use gas stations for all-in-one last-mile services and as a hub for logistics, cultural space and refueling to build innovative places where customers can enjoy a variety of lifestyle activities such as shopping and dining while refueling.
The refiner aims to create next-generation refueling services for drone delivery, small parcel delivery and car-sharing delivery services.
GS Caltex has demonstrated the use of delivery drones to carry lunchboxes and drinks from a gas station in the southern resort island of Jeju.
---
---