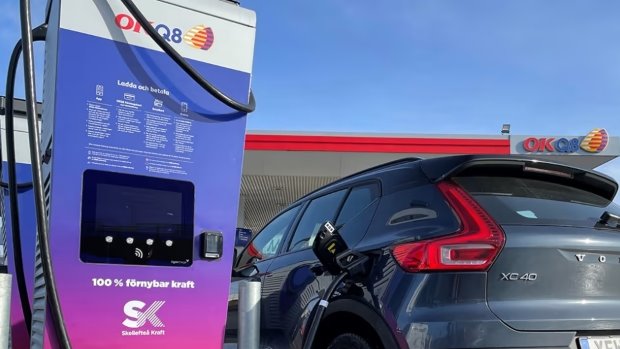 OKQ8 aims to build Sweden's largest network of fast chargers. In total, there will be 800 charging points distributed over 300 stations by 2026.
Now OKQ8 has opened its fifth station in the growing network. It is located at OKQ8 in Huskvarna by Vårstarondellen in close proximity to the E4.
The station gets two fast chargers with two charging points each. The quick chargers have an output of up to 150 kW. OKQ8 has distinguished itself by offering the possibility to pay with a debit card on its fast chargers, which will make charging easier.
Charging card and app are also available as payment options. The expansion is taking place in collaboration with Skellefteå Kraft. Four OKQ8 stations have already received the new fast chargers. These are located in Örebro, Kungsbacka, Trelleborg and Upplands Väsby.
We are proud to, together with Skellefteå Kraft, open two more super-fast chargers in our nationwide charging network in Sweden.
We are convinced that simpler and faster charging increases many people's willingness to switch to an electric car, an important part of the transition to climate-neutral mobility, says Karin Hellgren, Communications Manager at OKQ8.
In 2022, OKQ8 will continue to expand its network. By the end of the year, it will include about 50 stations in Sweden.
---
---