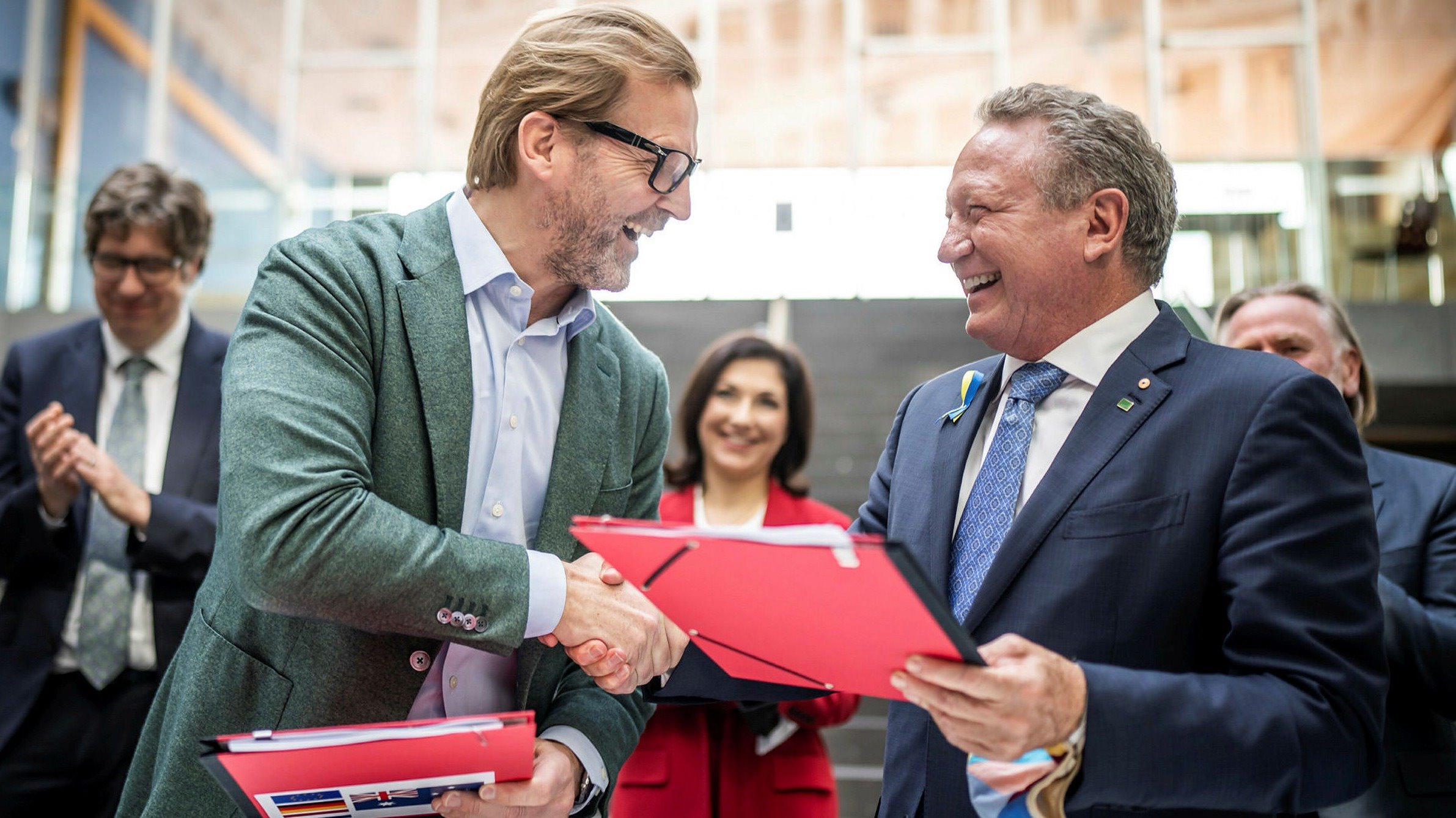 MoU agreed to deliver 5mn tonnes of carbon-free fuel to Germany and the Netherlands
Australian billionaire and Fortescue chair Andrew Forrest (pictured right) has pledged to produce and export enough green hydrogen to Germany to replace about a third of its gas imports from Russia, in an ambitious plan he said would require $50bn in investment.
The move to produce 5mn tonnes of hydrogen, part of a memorandum of understanding between Forrest's Fortescue Metals and German energy group E.ON, would mean building from scratch enough renewable energy capacity to power a country roughly the size of the UK.
A solution would also have to be found to the problem of liquefying and shipping vast volumes of hydrogen from one side of the globe to another at a viable price.
Under the MoU, Fortescue and E.ON agreed to develop a feasible hydrogen supply chain between Australia, Germany and the Netherlands, described by E.ON chief executive Leo Birnbaum as a "hydrogen bridge".
E.ON would distribute the hydrogen to its 50mn customers as replacement for gas in heating and industrial processes.
Green hydrogen is produced using renewably powered electrolysers to split water into hydrogen and oxygen, a process entirely free of carbon emissions. However, it is considerably more expensive to manufacture than traditional carbon-intensive "grey" hydrogen, which is made from natural gas.
In the past year, Fortescue has agreed billions of dollars of green hydrogen supply deals but has yet to start commercial production of the zero-emission fuel. It has, however, started construction of the world's largest manufacturing facility for electrolysers and expects to produce its first green hydrogen in Tasmania by 2024.
Forrest, who is Australia's second richest person, told a press conference on Tuesday that the company was on an "emergency footing", following Russia's invasion of Ukraine and Europe's subsequent commitment to reduce dependence on Russian gas imports.
He insisted that the considerable cost hurdles to creating a viable market in green hydrogen would be solved, claiming: "Liquid hydrogen will become the largest seaborne trade in the world."
Forrest said the energy required to manufacture the hydrogen would be generated in Australia from a mix of wind and solar but gave no precise details of where those projects would be built.
In a later statement, Fortescue said the $50bn figure referred to by Forrest was a "high level assessment" of what the project may cost and was "appropriate" to provide context and scale".
"Fortescue clarifies that there is no commitment to this expenditure and all such final investment decisions will be at the sole discretion of the Fortescue Board," it said.
Fortescue has previously promised to produce a total of 15mn tonnes of green hydrogen by 2030, requiring 200 gigawatts of wind and solar to be built, through its green energy subsidiary Fortescue Future Industries (FFI).
Forrest has told Fortescue investors that the company will pump 10 per cent of its annual after-tax profits into FFI, which recently appointed Guy Debelle, former deputy governor of Australia's central bank, as its new chief financial officer.
The EU is targeting 20mn tonnes of hydrogen production and imports by 2030 under its new plan to reduce dependence on Russian gas.
E.ON is not the only German company to sign a hydrogen deal with Fortescue. Bayer spin-off Covestro announced in January its intention to procure 100,000 tonnes of green hydrogen equivalent per year from FFI, starting in 2024.
The German government said last week that a faster ramp-up of hydrogen infrastructure would be necessary to achieve its aim of being largely independent of Russian gas by the summer of 2024.
Robert Habeck, economics minister and vice-chancellor, (pictured left) also announced that Germany had accelerated and expanded its hydrogen partnership with the United Arab Emirates.
Habeck, who was present at the Fortescue announcement, endorsed the deal. "The race for large scale production and transportation of green hydrogen has taken off," he said. "The agreement between E.ON and FFI is a major step forward and puts them in pole position for the delivery of green hydrogen to German industry."
Australia's huge tracts of unused land plus plentiful sun and wind resources have made it a popular location for green hydrogen projects and the government claims it has "the largest pipeline of announced green hydrogen projects in the world".
---
---