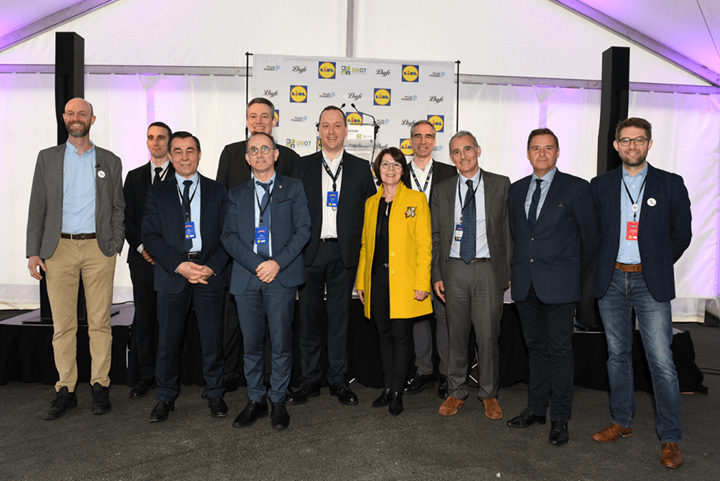 Discount supermarket chain Lidl (Carquefou, Germany) is switching its entire battery-electric vehicle (BEV) fleet used to operate its handling equipment to one run by fuel cells powered by green hydrogen.
The logistics platform, in collaboration with companies including Lhyfe (Nantes, France), Plug Power (Latham, N.Y., U.S.), HRS (France) and Jungheinrich (Hamburg, Germany) is said to be the first of its kind in Europe.
Lhyfe, Lidl says, was an ideal choice primarily because its plant is located only a few dozen kilometers from Carquefou, and because the company's hydrogen production is made possible through renewable resources like seawater (desalinated and purified) and electricity (from nearby wind farms).
Around 100 forklifts or 80% of the vehicle fleet in the German retailer's Carquefou logistics center already operate on green hydrogen, and the rest is to follow by the end of the year. The platform will represent 75 kilograms of green hydrogen every day at the peak of its activity.
Refueling times had been decisive in its decision to opt for fuel cells. The company notes that the refueling time for a hydrogen vehicle is only two to three minutes, compared to several hours for recharging a lead-acid battery.
Moreover, three hydrogen charging stations are reportedly sufficient to supply all the site's handling machinery, and no dedicated space needed for recharging. Other determining factors for green hydrogen include decarbonization activity and fuel cell lifespan (10 years vs. three to five years for lead-acid batteries).
Project partners worked closely together to adapt a tailor-made solution to the needs of the logistics platform, including assembly of the ICPE file, design and installation of interior equipment and exteriors, adaptation of vehicles to hydrogen fuel cells and hydrogen consumption forecasts.
Plug Power and Jungheinrich provided the equipment necessary for platform implementation; Plug Power will also carry out the maintenance of all equipment on site. In parallel, Lidl is already studying the possibility of developing green hydrogen as a solution to optimize its logistics and reduce its greenhouse gas emissions.
In the medium term, Lidl plans to deploy green hydrogen vehicles onother logistics platforms or to use it to supply part of its fleet of delivery trucks.
"Hydrogen technology for industrial trucks is mature, deployed at 165 sites and 50,000 machines around the world, chosen for the productivity gains it provides," Julien Saleix, regional sales manager, Plug Power, says.
"For the first time in Europe, the hydrogen used here is green, renewable hydrogen. Lidl is bringing out a more sustainable energy model. This Carquefou site combines economic challenges and ambitious environmental objectives."
---
---