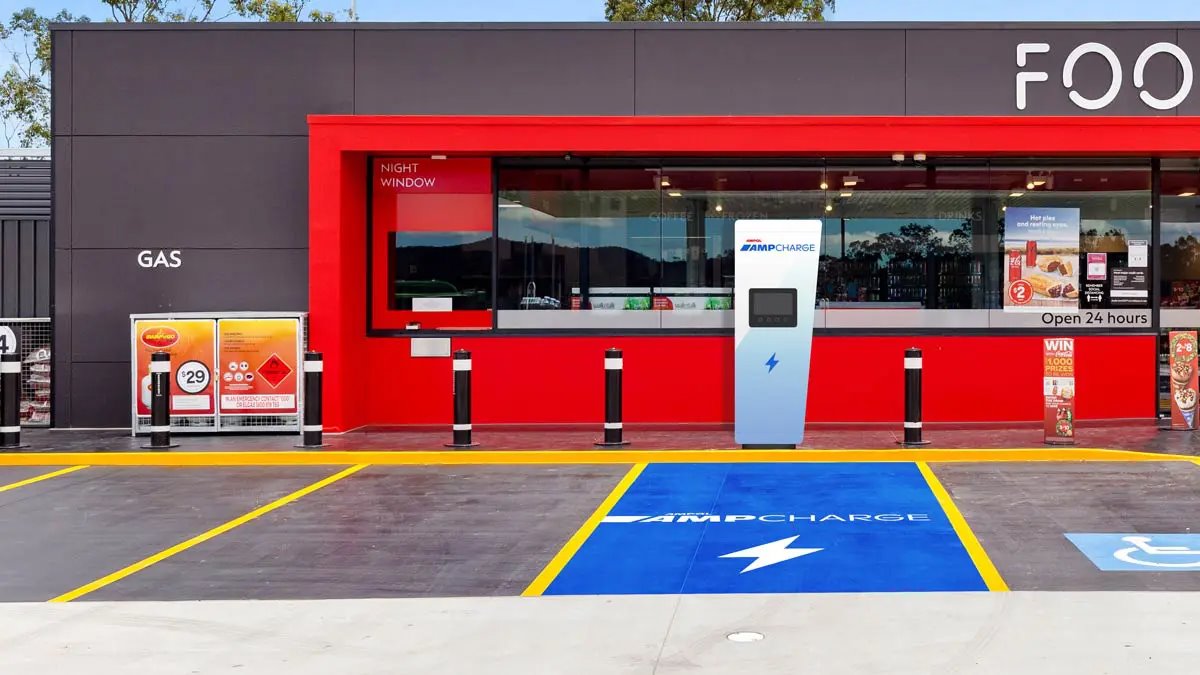 Ampol has unveiled a plan to run its own electric vehicle fast-charging network under the – perhaps predictable – name "AmpCharge", starting with five pilot sites in mid-2022.
The pilot forms part of a plan, funded by $7.05 million from the Australian Renewable Energy Agency (ARENA), that will see the petrol retailer and oil refiner roll out 120 EV charging sites by October, 2023.
The first five pilot sites will be located across four states in Carseldine in Queensland, Alexandria and Northmead in NSW, Altona North in Victoria and Belmont in West Australia.
The announcement comes as the petrol giant reported a 54 per cent increase in fossil fuel profits for the last quarter, and also following a controversial federal government bailout to the tune of up to $1 billion.
Ampol says it wants to become the leading EV charging network operator in Australia by 2030, including a fleet charging service for businesses as Australia starts a laggardly (by global standards) transition to electric transport.
While 2% of new car sales in Australia in 2021 were electric, in Europe battery electric car sales have hit 12.8% – and the percentage is considerably more in leaders such as Norway where nearly nine in 10 cars sold are now fully electric.
Ampol in 2020 cut a deal with Evie Networks, the EV charging network backed by coal baron Trevor St Baker's Energy Innovation Fund, to house its network of future-proofed 450kW ultra fast-chargers.
Its AmpCharge network, however, will target a more wide-reaching audience. "Consumers will see AmpCharge in Ampol service stations, depots and terminals right across the country," said Matt Halliday, CEO of Ampol in a statement.
"For the first time, we'll also be entering homes, workplaces and shopping centres as we seek to deliver simple and efficient charging solutions at convenient locations to keep people moving."
This statement hints at Ampol's plan to enter the energy market, having applied to the Australian Energy Regulator as it makes a bid to tap into its 3 million-strong customer base, as well as 80,000 corporate customers to establish an energy retail offering.
The petrol-station based AmpCharge network will deploy 150kW chargers which are adequate for most EVs available today (only a handful of EVs in Australia currently can charge at speeds over 200kW).
At 150kW an EV can add up to 900km/hr worth of range to its battery, although this speed slows down as the battery charge status "fills up".
By October 2023, AmpCharge plans to be operating 120 EV charging sites with the capacity to charge at least EVs at each station. Ampol says it will also install solar panels systems and battery storage, although it did not outline energy generation or storage capacity at this time.
In the 2020-2021 financial year, Ampol sold 22 billion litres worth of fossil fuels equating to 780,000 tonnes of carbon emissions. Ampol said in its 2021 annual report that it plans to achieve net zero emissions by 2040.
---
---