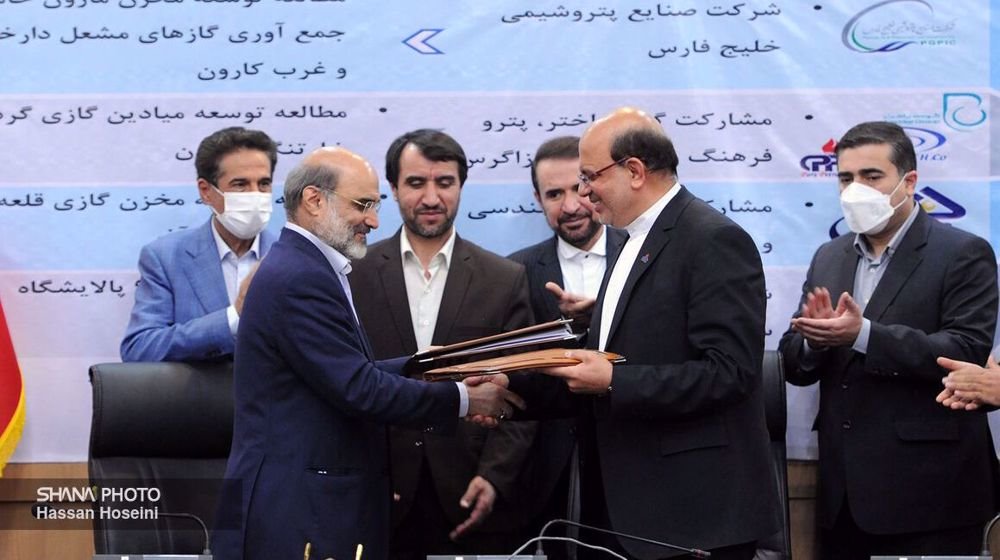 The Iranian Oil Ministry has awarded around $3 billion worth of petroleum contracts to domestic firms as part of plans to develop major oil and gas fields in the country.
Deputy Oil Minister Mohsen Khojasteh Mehr said that five contracts had been awarded to several petrochemical holdings, including the Persian Gulf Petrochemical Industries Co. (PGPICC), during events held earlier in the day on the sidelines of an annual petroleum fair in Tehran.
Khojasteh Mehr said the projects will enable Iran to increase its natural gas production by 60 million cubic meters per day and crude and condensate production by 37,000 barrels per day (bpd) and 50,000 bpd, respectively.
A report by the Oil Ministry's news service Shana said that the PGPICC had won contracts for exploration of two major oilfields near the border with Iraq as well as flare gas projects related to active oilfields in the same region.
PGPICC is the largest producer and exporter of petrochemical products in Iran with around $13 billion worth of annual revenues. The holding and its subsidiary companies have an estimated value of $35 billion in the local Iranian stock market.
Its CEO Abdolali Ali Asgari said on Sunday that the company will invest in development projects in three major oil and gas fields in Iran. Iran has relied on domestic companies for building out its huge oil and gas sector since 2018 when international oil giants left the country under American pressure.
Domestic firms have been involved in multi-billion dollar projects in South Pars, the world's largest gas field which is located in the Persian Gulf. Industry sources said contracts awarded on will allow Iran to meet a production target of 220,000 bpd in Azadegan, an oilfield shared with Iraq, by March 2023.
Pictured: Iranian Deputy Oil Minister Mohsen Khojasteh Mehr and CEO of Persian Gulf Petrochemical Industries Co. Abdolali Ali Asgari shake hands and exchange documents after signing major petroleum contracts on May 15, 2022 in Tehran.
---
---