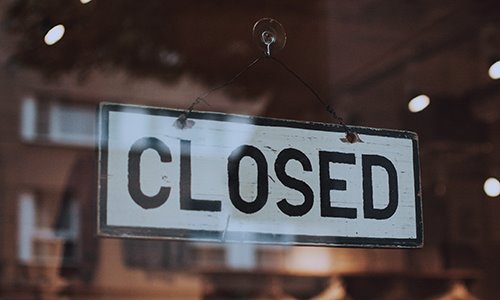 Photo by lilartsy: https://www.pexels.com/photo/closed-signage-2747710/
For Sri Lankans waiting in queues for essential items has become the new normal amid the worst economic crisis in the island nation since its independence from British rule in 1948.
Sri Lanka does not have enough foreign currency to buy necessities such as fuel, cooking gas, food and even medicine.
Earlier on Wednesday, the island's power and energy minister urged people not to form queues as there were no sufficient petrol stocks. He added that providing fuel has become a "hard task".
Prime Minister Ranil Wickremesinghe also addressed the parliament on Wednesday, saying the country does not even have a million dollars in foreign currency to pay for its imports.
According to the statistics he shared, Sri Lanka currently needs $530m to import fuel. The World Bank has provided the country with $160m and the government is discussing if the money could be used to pay for the much-needed fuel.
Furthermore, Litro, the country's main LPG supplier, announced on Wednesday that its distribution is affected due to delay in the unloading of stock caused by inclement weather.
Across the island, angry protests over fuel and gas shortages continued, according to local media reports, with demonstrators blocking roads in several cities to demand the resignation of President Gotabaya Rajapaksa.
Amid deadly protests last week, the president's elder brother Mahinda Rajapaksa resigned as prime minister. But his resignation has not placated the protesters who blame the powerful Rajapaksa clan for the country's crisis and want them to quit politics.
On Monday, Prime Minister Wickremesinghe warned the coming months will be the "most difficult" for Sri Lanka. "We must prepare ourselves to make some sacrifices and face the challenges of this period," he said.
Political analyst Dr Aruna Kulatunga painted a rather reassuring picture. "Our biggest issues will remain the payment of the International Sovereign Bonds (ISBs) and possibly some of the multilateral balloon payments during the next six months," he told Al Jazeera.
He said finance minister Ali Sabry and prominent opposition legislator Dr Harsha de Silva, along with Wickremesinghe, will be working to appoint a legal and financial negotiation teams for debt restructuring before the end of this week.
Along with debt restructuring, he said, the inflows from tourism and expatriate earnings are also showing a limited but gradual uptick.
"With these positive signs, most sectors of the economy will recover in the medium term but unless and until realistic and practical political reforms come in very urgently, long-term recovery is yet uncertain," he said.
---
---