Asis Automation, the leading brand of Turkey's fuel automation solutions industry, participated in UNITI EXPO 2022, the world's most prestigious industry fair, held in Stuttgart, Germany, on May 17-19, 2022. Both Asis Automation Systems and Mekser Petroleum Equipment presented its solutions and services to the fuel industry.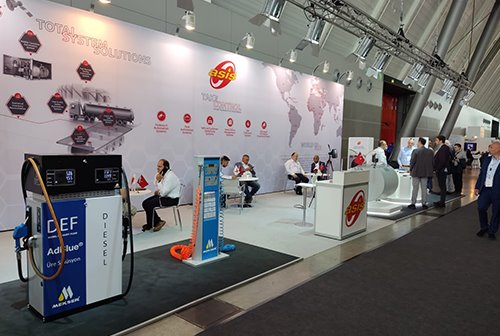 The exhibition, which could not be held for 4 years due to the pandemic, opened its doors this year and hosted visitors from all over the world. 431 exhibitors from 37 countries took part in UNITI EXPO 2022 and exhibition hosted over 16,000 attendees from 100 countries.
Visitors, who showed great interest in Asis Automation products, requested lots of information about the CalibeX Laser tank calibration system, which is first in the world. In addition, also great interest shown to our products Calibex Laser tank calibration system, MobileX (Customer Identification Systems), Pump Automation System, Tank Automation System, Cyber® TTS (Vehicle Recognition Systems) and Mekser dispensers and air units. Sales and Marketing Manager Artun Tanrıyaşükür, International Trade Manager Orkun Kılıç, International Project Manager Erhan Özdamar and Mekser General Manager Emir Kaya, who took part in the Asis booth, meet with global and potential customers and gave information about Asis' products, systems and technologies.
---
---