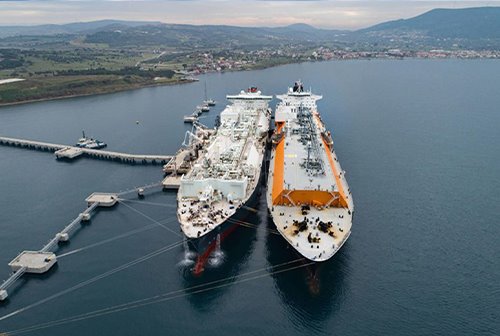 French energy major TotalEnergies SE is in talks with Germany on helping the country import more liquefied natural gas this year.
• Floating terminal can provide 5% of Germany's gas need
• German fast-tracking LNG terminals, with 4 FSRUs expected
TotalEnergies is looking to provide one of its two floating storage and regasification units -- specialized vessels that can act as LNG terminals -- to Deutsche ReGas, which is developing an import terminal at the port of Lubmin in northeast Germany, TotalEnergies said in a statement. The hub is also where the Nord Stream gas pipelines from Russia make landfall, and whose facilities could be used to carry supplies from the new LNG unit to Germany's onshore network.
Germany, a key buyer of Russian gas, has been taking aggressive steps to reduce its energy dependency on Moscow. Under those efforts, the government is fast-tracking approvals for LNG terminals and has already committed to bring on four FSRUs, with some projects starting as soon as this winter.
The FSRU has a maximum capacity of 5 billion cubic meters a year, or more than 5% of Germany's annual consumption. The vessel will be installed at the terminal called "German Baltic Sea," which will start transporting 4.5 billion cubic meters a year from Dec. 1, Deutsche ReGas said in its statement.
"TotalEnergies supports Germany in terms of European cooperation on its way to independence of Russian natural gas by supplying it to Deutsche ReGas," the German company said.
Germany's efforts to diversify suppliers this year have already slashed the nation's reliance on Russian gas, which now makes up about 25% of Germany's total gas imports from 45% in mid-May, according to Deutsche Bank AG.
The terminal in Lubmin is one of a handful of terminals planned in Germany, with other projects in development in Brunsbuettel, Wilhelmshaven, and Stade.
TotalEnergies is already working with the French government to install the company's other floating LNG terminal in Le Havre, France, with the aim to have it connected to the French gas network in September next year, pending regulatory approvals.
— With assistance by Elena Mazneva
---
---