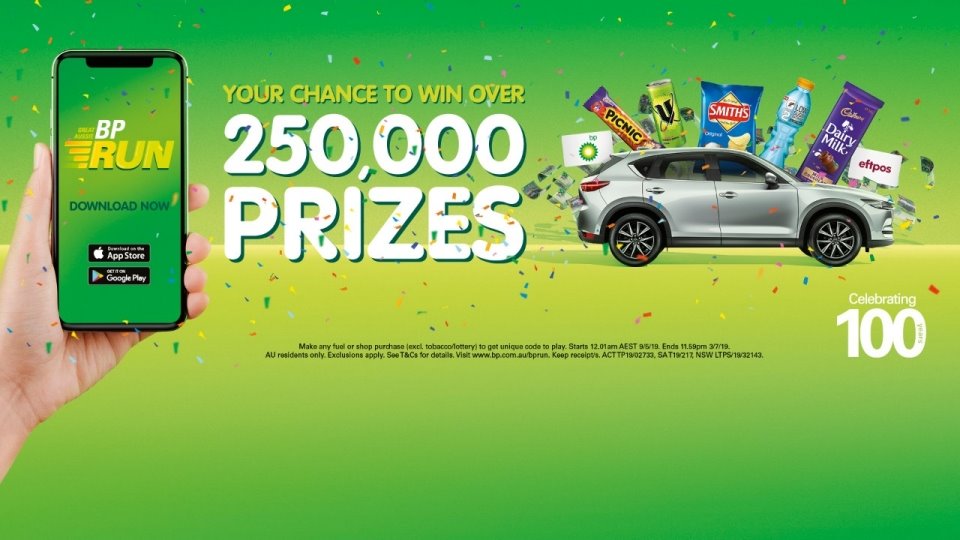 To commemorate a century in Australia, BP has released the BP Run mobile game app which will be promoted using an accompanying above-the-line campaign.
'The Great Aussie BP Run' has been created by WPP's Team Energy, which brings together talent from Ogilvy, Geometry, Millipede and Mindshare and will feature an app that allows customers to win from 250,000 prizes which can be claimed from the country's BP stores.
Supporting the game will be a television campaign, outdoor, radio, social media and point of sale activity. Customers can also enter a $1000 cash draw each day, where they will receive a game card when they purchase from a BP store.
To enter, customers place a code into the app to unlock up to eight levels and five different characters where they will compete to win. David Ponce de Leon, executive creative director of WPP Team Energy said: "Running down to the BP servo to grab bread, milk, petrol or a choccy is something all Aussies can identify with.
We thought we should mark 100 years of BP in Australia by celebrating 'The Great Aussie BP Run' the best way we know how, by rewarding our customers. The 'BP Run' game it's an incredibly fun way to do this and Aussies everywhere seem to agree."
Lauren Outhred, brand marketing manager for BP Australia, added: "For our 100th year, we wanted to celebrate with our customers by creating a fun and uniquely Australian game. We saw this as a great opportunity to reward them for their loyalty. We are thrilled to see this campaign come to life after months of work and a momentous effort from the team."
---
---