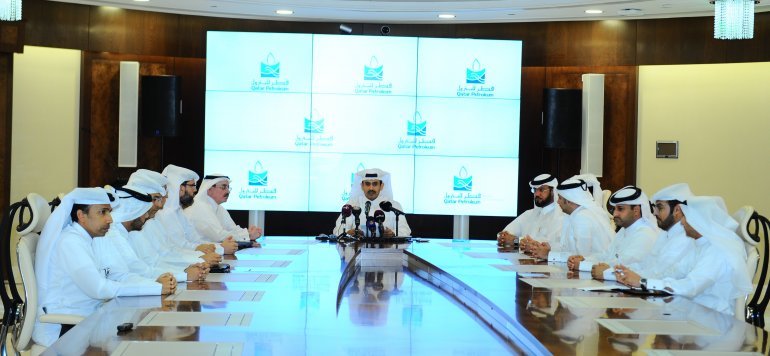 H E Saad Sherida Al Kaabi, the Minister of State for Energy Affairs, the President and CEO of Qatar Petroleum (QP), said that a series of new projects related to expansion of oil, gas and petrochemicals industry will have important percolating effects on other sectors of the Qatari economy and give major boost to the national income for several years.
QP announced that it will raise Qatar's LNG production capacity to 126 million tonnes per annum (mtpa) by 2027, representing an increase of 64 percent from the current 77 mtpa.
"With the additional number of trains for the expansion of LNG, we are going to produce additional amounts of LPG (liquefied petroleum gas), condensate, ethane and helium. So in addition to LNG facilities, we will be required to build additional facilities for storing and handling LPG.
There is a possibility that we may also expand our helium plants. And then for the use of additional amount of ethane, we will also enhance our petrochemical sector," Minister Al Kaabi told reporters in response to a question at the press conference.
Minister Al Kaabi added: "There are so many projects to talk about but today I want to focus on the gas reserves and LNG expansion project. But I want to assure that all these projects will have a very positive impact on other sectors of the economy, including the petrochemicals, construction and companies in other sectors of the economy will also benefit significantly.
This will help increase the government's revenue as well." QP has announced to build 4 new LNG trains to boost the production, and construction for these new trains will start from next year, and two these trains will be staggered at the end. All that will witness a massive construction for over the next 7-8 years in the oil, gas, and petrochemicals sector, which will give a major boost to the economy.
Qatar, with a huge reserve of over 1,760 trillion cubic feet of natural gas (including the new reserves announced yesterday) is reinforcing its position as the leading supplier of clean energy in the world. Qatar until very recently remained the world's largest LNG exporter, with 82 mtpa of in exports in 2017.
Responding to a question from The Peninsula, on the market diversification strategy for Qatari gas supply, the Minister said that Qatar has been working on it, and QP recently signed an agreement with the Belgian independent natural gas transport company Fluxys Belgium booking the full capacity of Zeebrugge LNG Terminal in Brussels to export more LNG to the European markets.
"In addition to the Zeebrugge LNG Terminal, which has a capacity to receive about 7 mtpa of LNG, we have a terminal in Italy, we have the largest LNG terminal in the UK, and we are looking forward to announce some other projects in Europe. Diversity (of market) is something that we are very much looking at. And we are demonstrating it by actually doing it. We have a lot of things on the table which will be announced at appropriate time," the Minister noted.
---
---