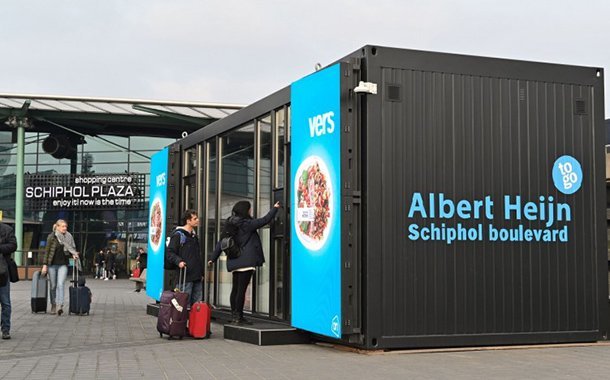 The Dutch supermarket chain Albert Heijn has opened its digital store at Amsterdam Schiphol airport to allow visitors to test its check-out free shopping concept for two months.
The autonomous store is open to all visitors at Amsterdam's airport, where they can experience the speed and convenience of shopping without a cash register until the end of January 2020.
In collaboration with American tech start-up AiFi and financial corporation ING, Albert Heijn began testing its digital store at its Zaandam head office in September. Currently located on Jan Dellaertplein in front of Schipol Plaza, the store's autonomous nature allows it to be placed at locations in need of a temporary small store.
AiFi uses a combination of AI, edge computing and scalable sensor fusion technology to operate the autonomous stores. With its NanoStore in Schiphol, customers can scan their debit cards at the door to open it automatically, then pick the products they want and leave the store.
Open daily from 8am to 8pm, the groceries will be automatically registered and paid for, with no need to scan the products. If desired, customers can also check their purchases at the exit.
"Speed ​​and convenience are paramount for our travellers," says Irene Muysson, head of retail, food and beverage and commercial services at Amsterdam airport Schiphol.
Muysson added: "We are therefore happy to give a stage to this innovation from Albert Heijn and we are naturally extremely proud that we can be the first to offer visitors to Schiphol the benefits of digital shopping.
Albert Heijn and Schiphol have been working together for years. We are constantly looking at how we can improve the shopping experience, for example by using new digital technologies."
The Dutch retailer will continue to test its digital store for two months, with the intention of developing its technology and customer experience offering.
---
---