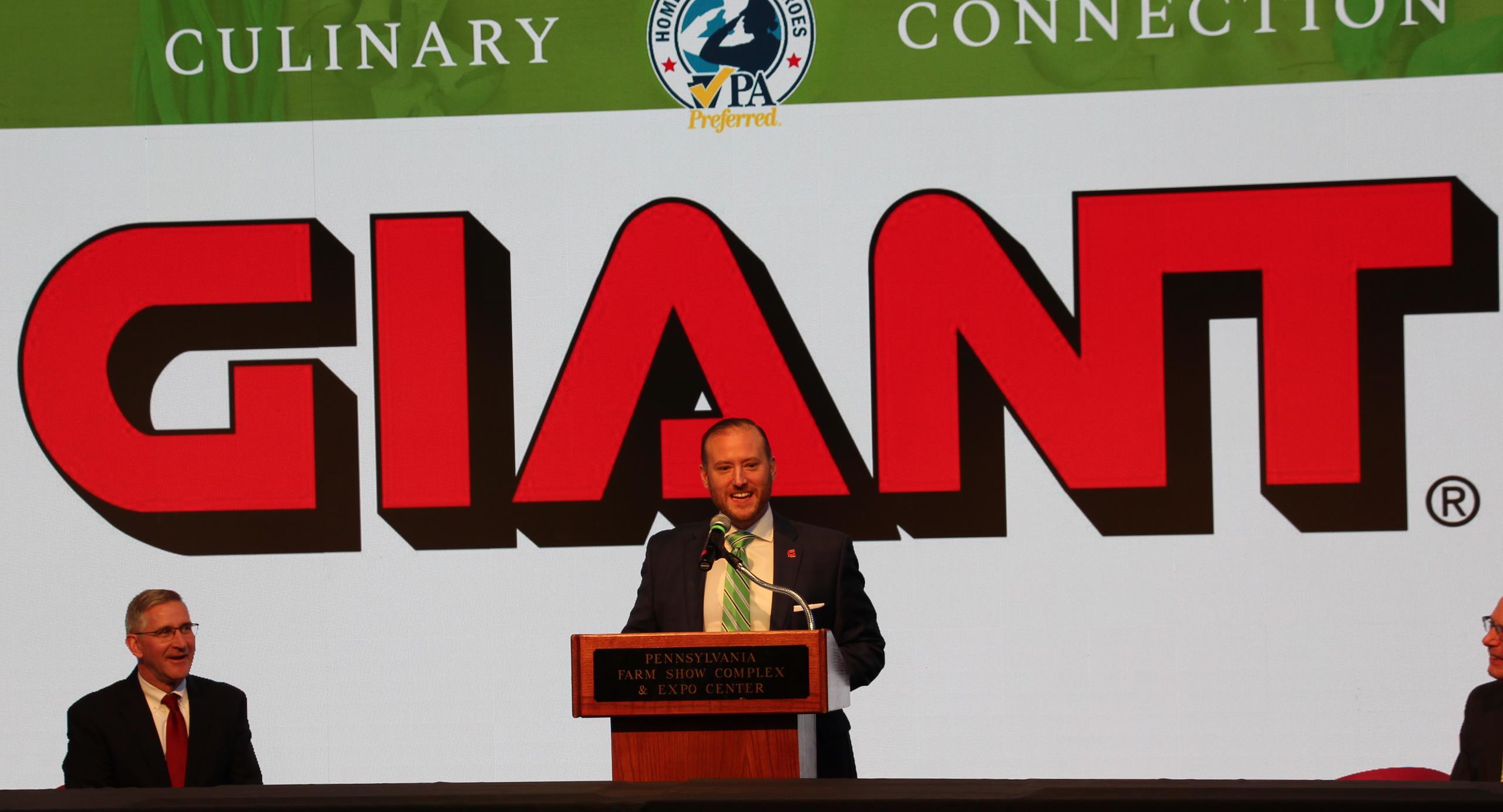 Stepping up expansion in its home state, Carlisle, Pa.-based Giant Food Stores plans a $114 million capital investment that includes two new stores, a new e-commerce hub and 35 store remodels.
Giant said the 18-month initiative will bring new Giant supermarkets to Harrisburg and Pocono Summit, Pa., plus its largest Giant Direct online grocery fulfilment centre yet to Philadelphia.
The new stores and the e-commerce facility are slated to open in 2020 and 2021. Nicholas Bertram, president of Giant Food Stores (pictured) , unveiled the capital expenditures program with Russell Redding, secretary of the Pennsylvania Department of Agriculture, and Dennis Davin, secretary of the Pennsylvania Department of Community and Economic Development (DCED), at the Pennsylvania Farm Show in Harrisburg.
"We're doubling down on growth and innovation for our customers, building on the incredible momentum of 2019, and continuing to invest in our great commonwealth," Bertram said in a statement. "The accelerated growth of Giant Direct has set the stage for additional investment opportunities that extend our e-commerce geographic reach. At the same time, our Giant Heirloom Market format has enabled us to reach an entirely new demographic in Philadelphia."
Giant noted that the latest projects build on its current expansion in the city of Philadelphia, central Pennsylvania and eastern Pennsylvania's Monroe County.
Expected to open later this year is a 52,000-square-foot Giant store at 6301 Grayson Rd. in Harrisburg in Swatara Township. Construction is due to get under way in early 2020, Giant said. The chain currently operates eight stores in Dauphin County.
Giant plans a 2021 opening for a 66,000-square-foot Giant supermarket at the southwest corner of Interstate 380 and State Route 940 in Pocono Summit. The new store will boost the brand's presence along the Interstate 380 corridor and in Monroe County, the retailer said.
Meanwhile, the 35 planned store upgrades include locations across Giant's operating area. Remodeled stores will feature enhanced product assortments, streamlined order pickup, improved merchandise displays and modernised décor, Giant said. Some stores also will add Beer & Wine Eateries, now in more than 100 Pennsylvania stores. Upcoming remodels include Giant supermarkets in Camp Hill and St. Davids, Pa.
"Investing in our store base remains a priority for us as we work to enhance the in-store experience for the millions of customers we serve each week," according to Bertram. "From our development projects in Philadelphia to our new stores in Pocono Summit and Harrisburg or our remodels across the state, our goal is to provide the very best, most personalised shopping through innovation, technology and a refreshed design."
The Philadelphia Giant Direct facility will create over 200 jobs, and the two new stores will bring a combined 350 jobs, Giant reported. More than 160 of Giant's nearly 190 total stores — which also include locations under the Martin's Food Markets and Giant Heirloom Market banners — are in Pennsylvania, with the rest in Maryland, Virginia and West Virginia. Giant's operations in Pennsylvania account for about 27,000 of its overall 33,000 employees.
"The $114 million that Giant is pledging to invest over the next two years is going to have a big impact on our economy," Davin stated. "Giant has been a Pennsylvania company since it was founded in Carlisle almost 100 years ago, and it's great news to see them growing at an incredibly rapid rate, creating jobs and helping provide food access in our communities."
Outside of the new capital project, Giant plans to open two other stores this year in Philadelphia: a small-format Giant Heirloom Market at 201 South St. in the Queen Village neighborhood — its fourth in the city — and a two-story, 65,000-square-foot Giant supermarket at the corner of 23rd and Arch Streets along the Schuylkill River. The latter, which Giant said will be a flagship store, has a targeted opening of fall 2020.
Last year's expansion followed other sizable investments in Pennsylvania. In June 2018, Giant unveiled a $22 million investment for Lancaster County including four store remodels, a new fuel station and Lancaster e-commerce hub. That project built on a $70 million plan in the state, announced in April 2018, for six new locations, two store upgrades and four new fuel stations over the next two years.
---
---