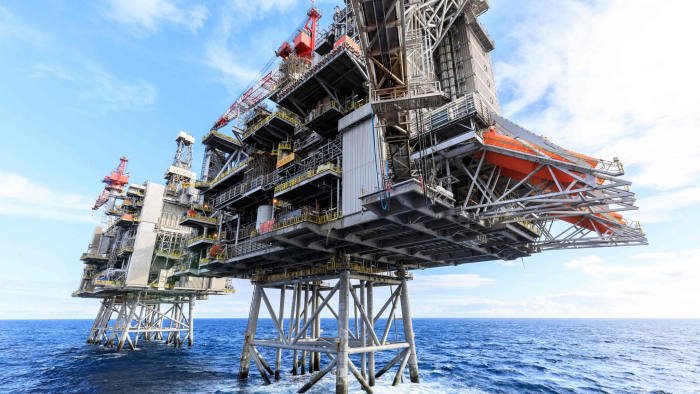 BP said the deadly coronavirus outbreak could cut global oil demand growth by 40 per cent this year, putting pressure on Opec producers and Russia to curb supplies to keep prices in check.
Brian Gilvary, the UK oil major's chief financial officer, said 300,000-500,000 barrels a day were at risk this year — a big chunk of 1.2m b/d growth initially expected by the company and global energy agencies.
Mr Gilvary added that BP was closely watching "whether Opec balances or not" by enacting production cuts with allies including Russia to bring Brent crude prices "back to the $65 a barrel range".
His remarks come as Opec and Russia discuss emergency cuts in oil production after the crude price entered a bear market by falling more than 20 per cent in recent weeks to below $55 a barrel.
The falling price presents an additional challenge for BP just as Bernard Looney, its head of exploration and production, takes over as chief executive on Wednesday from Bob Dudley, who leaves the company after nearly 10 years at the helm.
BP's earnings — like its rivals in the US and Europe — have been under pressure as increased production failed to offset lower energy prices, leading to a 26 per cent drop in fourth-quarter profits.
In the three months to December 31, underlying replacement cost profits — BP's definition of net income and the measure tracked most closely by analysts — were $2.6bn, versus $3.5bn in the same period in 2018. However, the results exceeded analysts' estimates of slightly less than $2.1bn.
However, BP's confidence about its ability to generate more cash grew after the completion of a $1.5bn share buyback programme, new asset disposal targets and falling debt levels led it to raise its dividend by more than 2 per cent to 10.50 cents.
Its shares rose nearly 5 per cent in early London trading. "It's a relief for me that we have got the balance sheet trajectory to where we want it to go, which sets us up with a strong foundation for a new chief executive," Mr Gilvary said. BP reported full-year profits of nearly $10bn in 2019, down from $12.7bn the year before.
The company's results followed disappointing earnings from Shell, ExxonMobil and Chevron, as an energy price slump and contracting chemicals industry margins hit the oil and gas sector. France's Total will report on Thursday. BP is reconfiguring its portfolio of assets as part of a broad $10bn divestment programme to strengthen its balance sheet after a blockbuster deal to acquire mining group BHP's shale assets in 2018.
Divestment proceeds tallied $800m in the fourth quarter and BP said it was ahead of its $10bn target for the end of 2020. It planned a further $5bn in sales by mid-2021, which it said would enable it to pay down debt after the BHP deal.
Gearing — which BP defines as net debt divided by the sum of net debt plus equity — fell to nearly 31 per cent in the fourth quarter, from close to 32 per cent in the previous three months. BP said it would move towards the middle of the 20 to 30 per cent range in 2020.
Oil and gas production for the quarter was up nearly 3 per cent compared with last year at 2.7m barrels of oil equivalent a day. Operating cash flow was $7.6bn in the fourth quarter, excluding Gulf of Mexico oil spill payments. These payouts are expected to be less than $1bn in 2020.
BP's capital expenditure is expected to remain towards the lower end of its $15bn-$17bn range for 2020, in line with 2019.
---
---