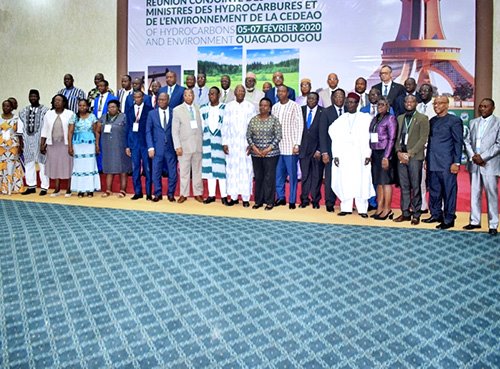 With a population of close to 400 million people, the West African region has one of the fastest growing vehicle fleets in the world. As in most African countries, the bulk of vehicle imports into the region consists mainly of used vehicles. Regulation to restrict the quality of cars being imported into the region is weak. This, coupled with poor fuel quality, is one of the leading causes of increasing levels of air pollution in cities in the region.
In a major step to reducing air pollution and climate emissions in the region, the environment and energy ministers of all the 15 countries of the Economic Community of West African States (ECOWAS), met on 6 - 7 February 2020 in Ouagadougou, Burkina Faso and adopted a comprehensive set of regulations for introducing cleaner fuels and vehicles in the region.
The high level ministerial meeting was organized by the ECOWAS Commission with the support of the United Nations Environment Programme (UNEP) and other partners.
The specific regulations adopted by the ministers on cleaner fuels and vehicles are:
A sulfur fuel standard of 50 parts per million (ppm) for petrol and diesel for all imported fuels from 1 January 2021. Local refineries will have until 1 January 2025 to upgrade their operations to meet the new requirements as well as comply with other fuel parameters such as benzene and manganese that were agreed by the ministers.

All vehicles that are imported, both new and used, and petrol and diesel, will need to comply to a minimum of EURO 4/IV vehicle emissions standard from 1 January 2021. An age limit for used vehicles of 10 years was also agreed to, with a recommendation of a five-year age limit for light duty vehicles.

A plan to improve the fuel efficiency of imported vehicles was also adopted, with a target to double the efficiency of the fleet from an average of 8 litres per 100 kilometres today to 4.2 litres per 100 kilometres by 2030. An intermediate target of 5 litres per 100 kilometres by 2025 was also agreed. The vehicle fuel efficiency plan or roadmap includes proposals to introduce fiscal incentives to attract low and no emissions vehicles to the region, measures to promote electric vehicles, and a new harmonized label for newly imported vehicles showing the vehicle fuel efficiency and CO2 emissions to support consumer awareness.
These decisions will now go to a Council of Ministers meeting taking place in June 2020, for formal adoption. Once adopted, the legally-binding decisions will become effective on 1 January 2021 at the latest.
This is not the end of the process, as several countries are now requesting for implementation support to for example, help to draft national fuel and vehicle standards, or to implement the fuel economy roadmap and introduce electric mobility.
---
---