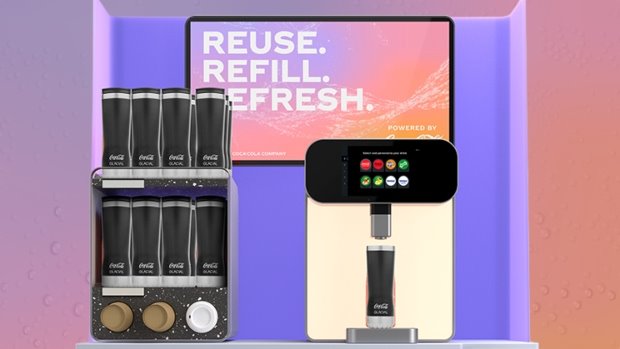 The machine allows customers to personalize their drink and choose from 40 different beverages and flavor combinations, half of which are sugar-free.
"This compact tapping system has the potential to reduce the environmental pressure of packaging and the pilot is part of a broader test phase in several European countries," the company reports.
The solution is designed, among other things, for smaller locations on the road, such as petrol stations. "A gas station can offer a lot of potential when it comes to returning visitors, for example, in terms of convenience and habituation with the use of a refillable cup," says a spokeswoman for Coca-Cola in the Netherlands.
The test has been running since July. "We are slowly getting a better impression of how consumers experience this new innovation. Of course, we also keep in close contact with the pilot location.
They see the direct reactions of guests on the shop floor, which shows a lot of enthusiasm, including about the amount of flavors and option to personalize. What is particularly central to the pilot is discovering how we can encourage consumers to use the tapping system, especially with the use of a refillable cup."
Pilots are also currently running in France, Belgium and Great Britain, among others. With the tests, the company wants to gain knowledge about solutions that can contribute to reducing packaging waste and reducing the CO2 footprint. "Before there is any expansion, first gaining more insight is paramount."
According to Coca-Cola, the drinks-on-demand innovation is in line with the company's ambition to sell at least 25 percent of all beverages in refillable packaging or in beverage dispensers with reusable packaging by 2030.
In this, the tapping systems are 'of crucial importance' for the company. "We are constantly looking for possibilities and solutions to continue to respond to changing shopper needs," the spokeswoman said. "We are closely monitoring this pilot and will evaluate it, in order to optimally match the shopper needs and behavior."
---
---