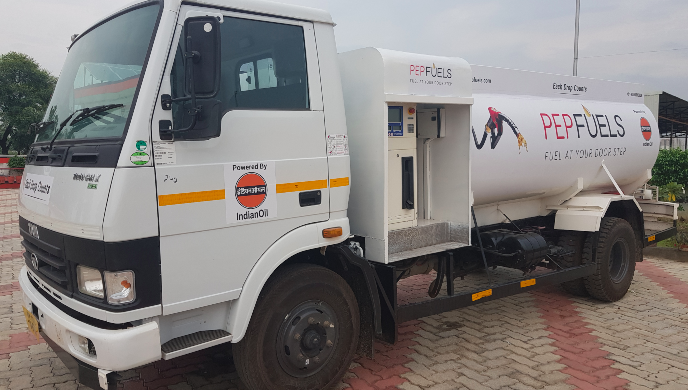 In May 2019, Pepfuels signed a tri-party agreement with state-owned oil marketing company Indian Oil Corporation for doorstep delivery.
According to standard fire and fuel safety regulations, one can only store around 990L petrol for own usage. Storing more fuel than the restricted limit is dangerous, especially when one carries the containers in a vehicle.
"There are some businesses, industries, hospitals where fuel is required in large amounts regularly. Standing in queues during peak hours for fuel not only wastage of time but also generates a lot of pollution and traffic issues," says Kathil from pepfuels.
Pepfuels is a location-based fuel delivery system. The startup delivers "quality fuel" to enterprises and industries at economical prices. Customers can place their order through its app by entering the vehicle type, selecting fuel quantity, choosing a delivery slot, and entering a shipping address.
Pepfuel's dispensers are equipped with in-built fire extinguishers. Its vehicles are also geo-fenced and equipped with GPS and fuel sensors. Its customers include Delhivery, Oyo, AVG logistics, Triumph Motor, RGL Flexible, Jaquar, and SOIL Business School.
At present, Pepfuels operates in eight cities, including Noida, Greater Noida, Ghaziabad, Manesar, Gurugram, Bilaspur, Delhi and Dadri. Expansion to 10 news cities, including Bangalore and Hyderabad, is on the cards.
---
---