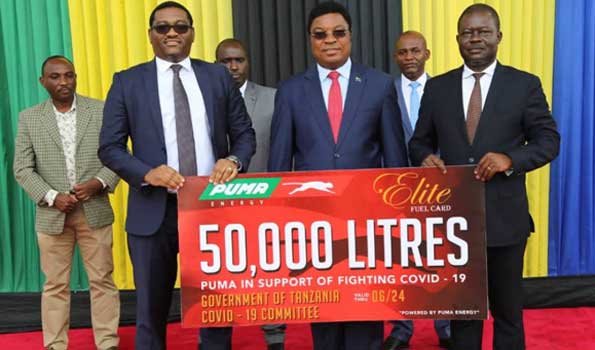 A statement by Tanzania's Prime Minister's Office declared that Tanzanian partners jointly donated medical supplies, technological gadgets and cash amounting to 6.226 billion Tanzanian shillings (about 2.7 million U.S. dollars) to assist the country in combating and containing the Covid-19 pandemic.
The statement mentioned the contributors as China's Huawei that donated facilities for video conferencing, and Twiga Minerals Corporation, a joint venture between Barrick Gold Corporation and the Tanzanian government, that donated 1.7 million dollars.
Other donors were Tanzanian businessman Rostam Aziz who contributed 1 billion shillings, Taifa Gas Company gave 100 million shillings and Puma Energy that supplied 50,000 liters of fuel.
The medical supplies, technological gadgets and cash money were received by Prime Minister Kassim Majaliwa in the capital Dodoma.
Speaking shortly after he had received the donations, Majaliwa appealed to Tanzanians to work together and double efforts toward bringing the COVID-19 pandemic under control.
Majaliwa made the appeal as Tanzania recorded 24 confirmed cases of COVID-19, including one death and five recovered cases, since the first outbreak of the viral disease was reported in the country on March 16.
The statement mentioned other donors as civil society organisations that contributed a total of 79 million shillings. Majaliwa, on behalf of President John Magufuli, thanked the donors for their timely contribution that will play a major role in fighting the viral disease.
---
---