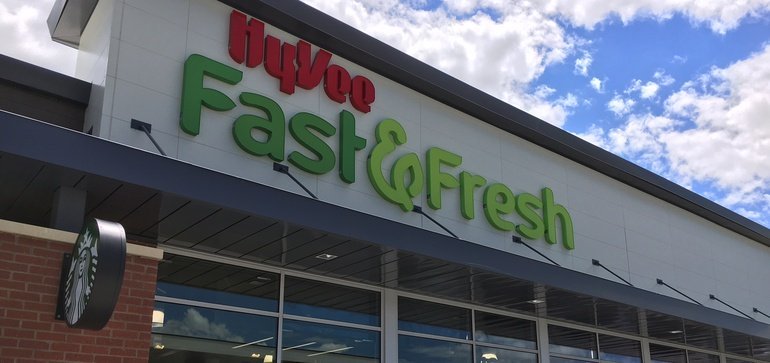 Hy-Vee is introducing free full-service fueling at more than 165 locations across eight states, including Hy-Vee Fast and Fresh stores, the company announced.
The service is offered from 7 a.m. to 7 p.m. every day. To use it, customers click the "Fuel Help?" button at the gas pump they are parked next to or call a phone number found on signs at the pump.
Customers can also order food and other items from Hy-Vee's convenience store. Employees will deliver customers' orders to their vehicles and process transactions from the fuel station. The service can be paid for with cash or credit card. For protection, employees will wear gloves.
Hy-Vee's addition of full-service fueling could ease shoppers' concerns that they could catch coronavirus when pumping gas, and potentially bring in new customers and generate additional sales to its convenience stores.
These smaller format stores have been a focal point for the grocer this past year. In February, the retailer bought four former QuikTrip locations to convert to Fast & Fresh Express stores that offer more food than a traditional convenience store, including nori sushi, made-to-order foods and healthy snack options.
While most fuel stations across the country stopped offering full service in the 1970s, mandatory stay-at-home orders, have caused a decrease in demand for gasoline and an increase in supply, resulting in lower prices. This has allowed the grocer to offer this service, which adds another element of customer service and helps protect shoppers by removing a touch point at the fuel station.
Midwestern fuel station chain Kum & Go is offering full-service fuel at participating stores across the country as well. As at Hy-Vee, shoppers call a number when they arrive at the pump and can purchase fuel as well as items from the convenience store.
In Oregon, state officials have lifted its ban on self-service fuel stations after pleas from a fuel association, CSP Daily News reported. The association argued that there is a shortage of fuel attendants because they are sick or uncomfortable working so closely with customers, which has resulted in closures of many fuel stations across the state.
Temporarily, fuel stations are allowed to offer self-service fuel for up to 10 consecutive hours as long as they oversee social distancing policies and sanitization efforts.
New Jersey, the only state left with a ban on self-service gas, has yet to change its policy despite safety concerns from gas station owners and employees who say it is impossible for fuel attendants to keep a six-foot distance from motorists. Hy-Vee has not detailed how it will enforce social distancing with its new full-service stations.
---
---