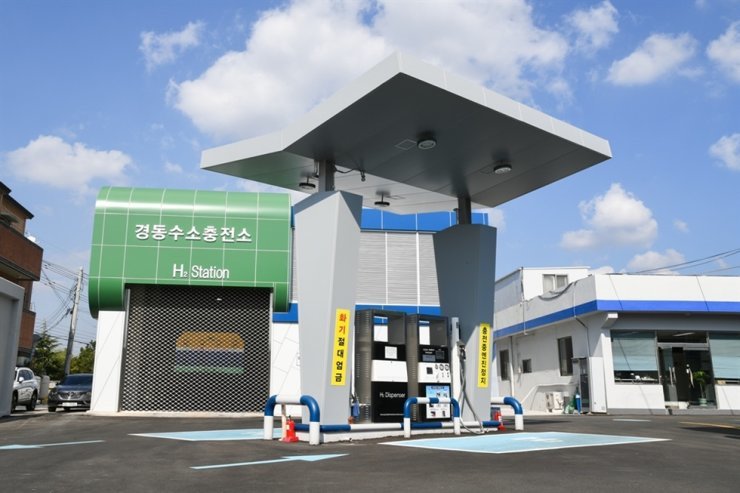 Hyosung, under the leadership of Chairman Cho Hyun-joon is set to construct the world's largest liquid hydrogen plant to better vitalize the local hydrogen economy.
The company has signed an MOU with Linde Group, a German chemical corporation and plans to invest 300 billion won by 2023 to create a value chain which includes the production, transport and operations involving liquid hydrogen The MOU was signed by Cho and Linde Korea Chairman Sung Baek-seok at the company's headquarters in Seoul.
The two companies agreed to establish a 30,000 square meters liquid hydrogen plant in Ulsan, which is expected to produce 13,000 tons of liquid hydrogen a year. This is capable of supplying 100,000 hydrogen vehicles, the largest production from a single liquid hydrogen plant worldwide, according to the company.
Construction will start in the first quarter of next year and is expected to be completed in 2022.
The liquid hydrogen made at the plant will be used in diverse mobility sectors including vehicles, drones, cranes and vessels, which is expected to contribute to the development of related industries.??
To further enhance the partnership between the two firms, they are scheduled to build 120 liquid hydrogen charging stations around the country to supply hydrogen vehicles.
Since 2000, Hyosung Heavy Industries has been operating a CNG charging system business and in 2008 jumped into the hydrogen filling station market. Currently, Hyosung leads the hydrogen filling station industry with a 40 percent market share, operating 15 stations nationwide.
"Hydrogen is an environment-friendly energy which could change the carbon focused economic structure as well as opening up infinite possibilities," Cho said. "The focus of Hyosung's liquid hydrogen business is to increase efficiency and to safely store and transport hydrogen. The investment will play a great part in vitalizing the local hydrogen industry."
In January, the government announced plans to vitalize the hydrogen economy by offering tax breaks and subsidies for the manufacture of 6.2 million hydrogen vehicles by 2040, as well as building 1,200 hydrogen filling stations. Last August, Hyosung announced it would invest 1 trillion won through 2028 to produce 24,000 tons of carbon fibre.
The operational efficiency of hydrogen filling stations is also expected to be drastically enhanced. When switching over to liquid hydrogen it will significantly reduce the filling time for an average hydrogen vehicle from 12 minutes to three minutes.
---
---