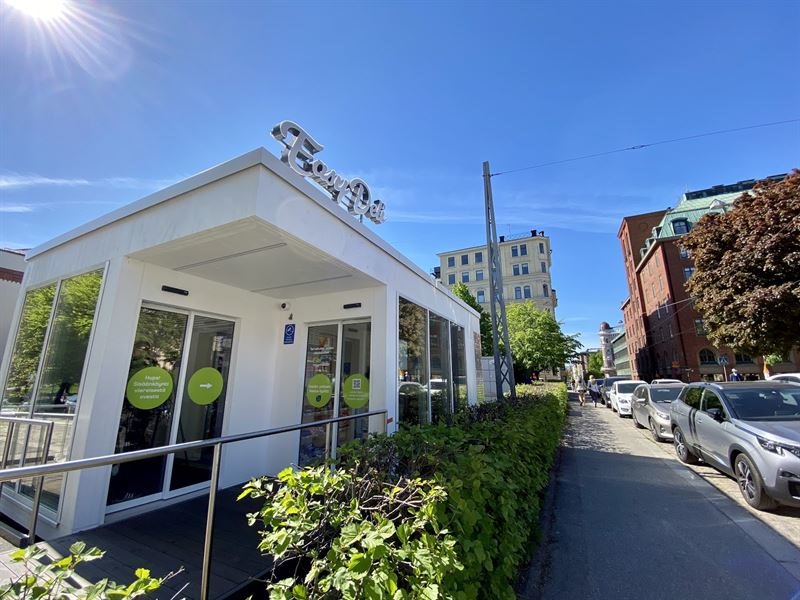 Neste opens a new fully automated Easy Deli store in the centre of Helsinki, Finland. The store uses RFID technology, developed in Finland by Nordic ID, which scans all purchases made by the customer at once, for example, through a shopping bag or a backpack. It is the first self-service convenience store in Europe using RFID technology.
"Consumer shopping behaviour is changing rapidly. We want to be part of this development and offer new kinds of smoother and faster customer experiences. The Easy Deli product scanner is the first of its kind in Finland and a huge leap forward compared to conventional self-checkouts.
This makes the shopping experience much quicker and easier. The closest references are found in China where the RFID-based shops have received positive feedback for their user-friendliness," says Jukka Peltoniemi who is responsible for automated services at Neste.
The Easy Deli store will be opened in conjunction with the Neste Express station in Ratakatu, Helsinki. During the summer of 2020, Neste will also open another Easy Deli store using the RFID technology in the Helsinki area. The company aims to further open new Easy Deli stores in conjunction with unmanned Neste stations in Riga, Latvia, during 2020. The 24-hour self-service stores complement Neste's range of services alongside conventional stations.
Nordic ID develops RFID-based (Radio Frequency Identification) item tracking and tracing services for collecting product data. RFID technology allows individual products to be scanned without visual contact. As a result, a large number of products can be scanned in only a few seconds. Furthermore, there are less scanning errors, as not every product needs to be scanned separately.
"The idea for this solution was triggered by the changes in consumers' shopping behavior. People want to go shopping when it suits them – close to their home and around the clock. They do not want to wait in line and may even abandon their purchases if the line is perceived too long.
Using barcode- based self-checkouts may even take longer than traditional manned checkouts. Scanning the barcode of every product may be inconvenient for customers not familiar with the system, making purchasing even slower," says Juuso Lehmuskoski, CEO of Nordic ID.
In the retail industry, fashion and apparel were the first to adopt RFID technology. In addition to making shopping more precise and quicker, the technology enables anticipating and reducing food waste and preventing theft. "No more barcodes or scanning products one by one"
To enter the Easy Deli store in Ratakatu, customers start by registering in the Neste mobile app. This ensures secure shopping and prevents any misuse and vandalism. After registering, customers pick out their products and place them on the RFID-based self-checkout, which scans all the products simultaneously in only a few seconds. Finally, customers pay for their purchases using Apple Pay, Google Pay or a payment card.
"The Easy Deli concept was previously tested in Vantaa, Finland, with consumer experiences being encouraging. In addition to quick and smooth shopping, the Easy Deli store is versatile thanks to its mobility.
The store can be set up quickly without any construction or excavation work. It has been built using sustainable and eco-friendly materials, and its energy consumption has already been minimized during the building stage. If there is enough demand in the market, we could expand the shop concept in new locations," Peltoniemi says.
---
---