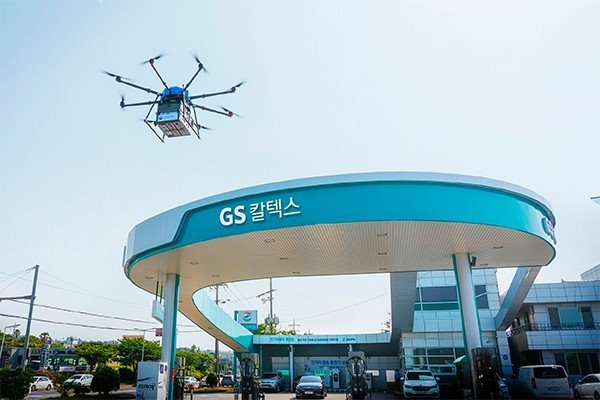 South Korea's GS Caltex Corp. is reinventing its fuel station network as the hub of mobility and logistics distribution demonstrated with testing out a new drone-based delivery service.
The company sent a drone to deliver a ready meal box from a GS25 convenience store to a consumer who placed an order via GS25's 'My Refrigerator' application. The drone safely completed its mission. It then went on to deliver sandwiches to an elementary school 800 meters away from the fuel station.
The project has been conducted in cooperation with the Electronics and Telecommunications Research Institute (ETRI), the Ministry of Trade, Industry and Energy and GS Retail. Jeong Hoon, head of logistics technology research center at ETRI who led the drone development, said it will carry out a test flight once a month to enable drone delivery services in the real world soon.
"The drone is designed to withstand strong wind with a speed of 10 meters per second," Jeong said. "We will enhance safety by carrying out numerous test flights on a regular basis." ETRI will continue to enhance the capability of the drone to carry up to 10-kilogram packages and drive 10 kilometers for one trip.
The country's top oil refiner has been making bold additions to their traditional gas stations. It has added electric and hydrogen power to traditional fuel as well as car wash and maintenance facilities, car-sharing, grocery and parcel delivery services.
---
---