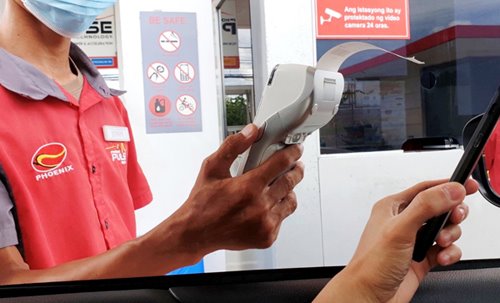 Phoenix Petroleum claimed that it is the first in the oil industry so far to extend electronic payment (e-payment) alternative in at least 100 of its service stations in Luzon – and this can be done via Alipay, GCash, GrabPay and WeChat Pay through QR code scanning.
"The move came as part of the company's tightened safety protocols across its businesses to help stop the pandemic," Phoenix Petroleum said.
As asserted by Phoenix Petroleum President Henry Albert Fadullon, the company "has always been an advocate of safe and secure service…this time, we want to further ensure the safety of our customers by offering contactless transactions that could help flatten the curve."
From its kick-off point in Luzon, the oil firm indicated that it also plans to offer within this June such mode of payment at its retail network in Visayas and Mindanao.
This is a new addition to the suite of service innovations that the Uy-led oil company has been advancing – a follow-through to the fuel delivery option that it earlier introduced for small and medium enterprises (SMEs) – and this is set to become part of what is codified as "new fashioned platform" of selling petroleum commodities.
On that sale approach which started in May, the company indicated that for customers with a minimum order of 3,000 liters, "a delivery option is available at select Phoenix stations in Mega Manila."
Under the program, Phoenix emphasized that businesses wanting to avail of the delivery service may not need to be a traditional partner of the oil firm. While Phoenix has been offering delivery of its fuels from depots, it is the first time that the company is offering to deliver fuel straight from retail stations."
Fadullon explained "the digital platform has become an essential part of our operations these days, and so far, we have launched various ways for customers to avail of our products online."
While recognizing the valuable role of petroleum products in keeping small and medium enterprises afloat and to underpin their recovery post-lockdown, Fadullon said the fuel delivery service offer could potentially "provide a more convenient option for customers in need of quality fuel supply during a time when mobility can be challenging."
In the enforcement of the general community quarantine in most parts of the country, many industries are already targeted for further re-opening; and it is seen that some of these entities are those in the SME sector.
The fuel delivery is a recourse that end-users with bulk petroleum needs could opt for in the "new normal" that will thrive as a business paradigm as the threat of the coronavirus has yet to wane.
And while the oil industry had been among those inordinately pummeled by the pandemic, the players in the sector are also casting their way out from the cataclysm as they keep eyes on the goal of building up their share in the market moving forward.
---
---