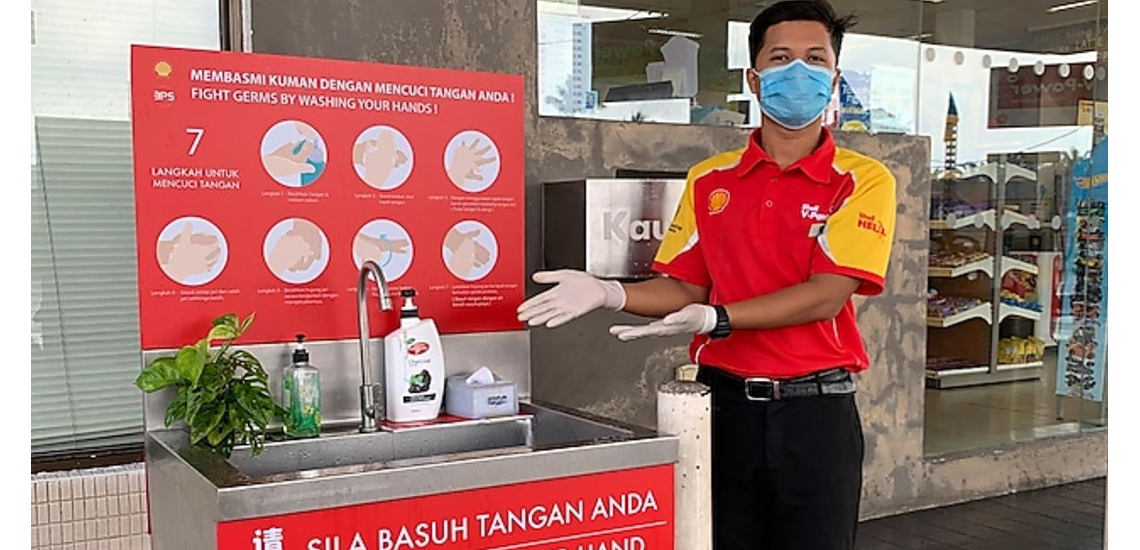 Following its world-class safety practices and protocols, Shell aims to set the standards of safety in mobility, using new technology and updated guidelines. While safety has always been a given at Shell even prior to the pandemic, Shell has put in place even stringent measures for the safety of both its employees and customers.
In every Shell station, enhanced health checks are conducted for staff and partner establishments before the start of their shift. All of the staff, including those in the lube bay and Shell Select, have been trained on all proper sanitation and COVID-19 prevention measures. They are reminded to regularly and thoroughly wash their hands, with extra precautionary measures like alcohol-based sanitizers at the forecourt.
Each Shell staff is also required to wear personal protective equipment, such as face masks, while others have face shields for added protection. Sanitizers are made readily available while wash areas have been set-up in select Shell stations to make handwashing accessible to both staff and customers.
This ensures that frequently touched surfaces and areas with high traffic, such as pumps, shop doors, payment terminals, and other common areas like customer restrooms, will be kept clean.
For customers who want to enjoy their favorite meals and snacks in Shell Select, Shell Deli2go, and partner establishments within the site, Shell reassures that proper food safety and handling is strictly observed at all times.
Additionally, 283 Shell stations across the Philippines are now accepting contactless payment through GCash.
"We want to make sure that our staff are safe, without compromising our service to our customers," said Pilipinas Shell Vice President for Retail Randy Del Valle. "But we also appeal to our customers to observe the proper social distancing etiquette, so we can keep each other safe during GCQ."
Keeping customers and Filipinos safe on the road does not stop with safety practices. Some communities still struggle with their basic needs because of the standstill that ECQ caused. This makes their comeback to the new normal more challenging.
With the nationwide network of Shell stations, Shell Select partnered with local entrepreneurs to boost their livelihood by offering local and regional products in certain Shell Select stores. These offers are part of Shell's efforts to be of service to its local community.
To further provide relief to affected communities, Shell GO+ has given 400 points to PUV drivers who are part of it's most active member base. The points can be used to buy Shell quality fuels or items from Select. To date, Shell has given a total of P3.2 million, with the efforts still ongoing to alleviate the effects of COVID-19 for drivers on the road.
In the coming weeks, drivers can also avail of two site-specific promos. The first is Get Gas, Get Bigas promo, which is available in Shell stations outside of Metro Manila. The simple act of refueling in stations not only helps customer fill up their vehicle, they can also figuratively refuel themselves and their families.
Customers can get one kilo of rice for either gas up of Shell FuelSave worth P2,000 or Shell V-Power worth P1,500. Shell customers can gas up and immediately claim their free kilo of rice by presenting a valid receipt.
Every purchase will still earn SM Advantage Card and GO+ points for customers. Customers are encouraged to gas up at their preferred stations, as they will exchange their receipts to claim the rice from the same station until July 15.
For those who will be refueling a smaller amount and within Shell stations within the greater Manila area, Shell has prepared rewards to make sure customers can still take home something extra for their families. For every P750 purchase of Shell FuelSave and P500 worth of Shell V-Power, customers can take home P20 worth of items.
Offers include discounts on Shell lubes or oil change packages, snacks at Shell Select, or items from Shell Shop. The shift to the new normal is not easy, but it becomes easier when there is a sense of bayanihan among Filipinos. Shell recognizes that a little help can go a long way, not just in providing for customers, but also in encouraging patrons to pay it forward and help keep others safe during these times.
---
---