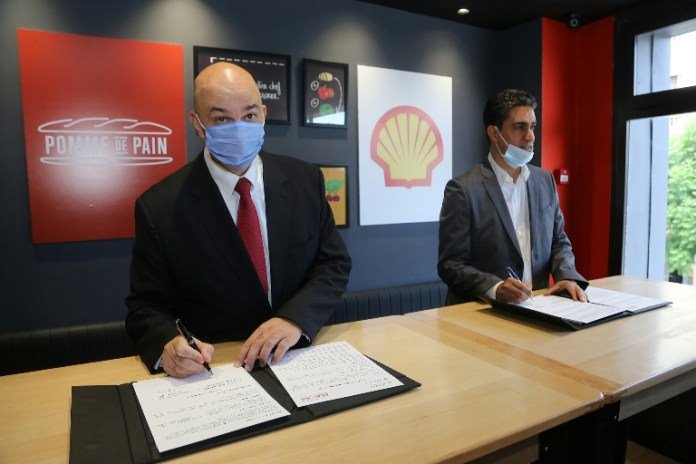 Vivo Energy Tunisie, the company that distributes and markets Shell products in Tunisia, and the company L'Olivier, holder of the Master Franchise of well-known French fast food brand "Pomme de Pain" for Tunisia, have just signed a historic agreement to create a joint venture called "Viniz Food".
It is planned that within thirty months, fiteen "Pomme de Pain" establishments will be opened both inside and outside Shell stations, distributed throughout the country and creating more than 230 jobs.
Two "Pomme de Pain" restaurants were already created in 2019 within the Shell stations of Avenue de la Liberté in Tunis and Boumhel.
Shell stations were the first to offer coffee breaks offered by specialist retailers since 2013. And this in addition to fuel and station services. For over five years, they have started transforming them into real living spaces. And this offering convenience and quality food.
Indeed, today, Vivo Energy Tunisie and the company L'Olivier are going through this Joint Venture agreement at high speed by combining their respective expertise and their knowledge of the field to co-develop new spaces "Apple de Pain "even closer to consumers and better meeting their needs.
Mohamed Bougriba, Managing Director of Vivo Energy Tunisia commented' "Having a joint venture with 'THE French-style sandwich-café' specialist is a great achievement for us!"
He added: "We are all the more delighted to be able to draw on the experience we have acquired in order to satisfy our dear customers who are becoming more and more demanding in terms of quality, service, food hygiene and availability".
Equally proud, Mr. Nizar Daoud, Managing Director of the new Viniz Food joint venture, and founder of L'Olivier, said: "Pomme De Pain" will accelerate development and strengthen customer proximity. Viniz Food thus aims to extend the presence of "Pomme de Pain" to all regions of Tunisia and offer consumers the same level of quality and flavour wherever they are".
---
---