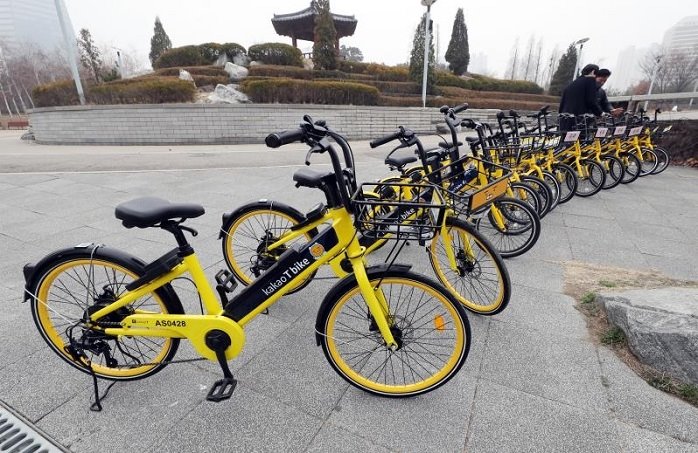 Kakao Mobility, a South Korean firm that provides ride-hailing and driver-for-hire services, had signed a business cooperation agreement with GS Caltex Corp to promote the use of electric bicycles.
GS Caltex, the second-biggest refiner by sales in South Korea, will install and run battery-charging facilities for Kakao Mobility's Kakao T Bike electric bicycle at the five gas stations it runs at Songpa District in Seoul, Incheon, Jeonju and Ulsan.
GS Mbiz Co., an automotive service subsidiary of GS Caltex, was also a signatory to the agreement. The company will provide electric bicycle repair services through its auto repair franchise autoOasis.
Prior to this business agreement, Kakao Mobility had charged and repaired the batteries and electric bicycles itself by collecting them through its regional-based operational teams.
Thanks to its cooperation with GS Caltex, Kakao Mobility will be able to charge and repair electric bicycles in a faster and more efficient manner.
GS Caltex expects this business agreement to clear the way for the company to foster its gas station network as a mobility stronghold. Kakao Mobility hopes its cooperation with GS Caltex will help it to expand its electric bicycle infrastructure.
In a joint statement, the companies said, "We will expand the coverage of electric bicycle repair and charging services to other gas stations nationwide. We will also strengthen partnership by promoting cooperation on the basis of the gas station network."
At present, GS Caltex runs 100 kilowatt (kW) electric car charging facilities at 44 gas stations nationwide and plans to increase the number of over 100kW ultra-fast electric car charging facilities to 160 by 2022.
---
---