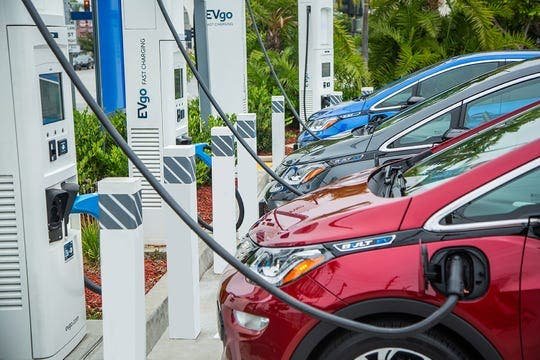 General Motors CEO Mary Barra that her company is partnering with EVgo, the largest EV charging network in the US, to add 2,700 fast chargers in 40 cities across America over the next 5 years.
GM and EVgo will install the new charging stations at grocery stores, retail outlets, entertainment centres and other high-traffic areas. These are places where people typically spend 15 to 30 minutes, GM said, allowing them time to charge their vehicles while they run their errands.
The new EVgo fast charging stations will be available to customers starting early next year and will be located in highly visible areas. All drivers will be welcome, not just those who own GM electric vehicles.
Most locations will be able to charge at least four vehicles simultaneously, GM says. The stations will have between 100 to 350 kW of charging power to meet the needs of the increasingly powerful EVs that are coming to market soon.
Charging at one of the new charging stations is expected to cost between $5 and $15, according to the Detroit Free Press. [Note: The Chevy Bolt, the only electric car currently offered by General Motors, has a maximum charging rate of 55 kW.]
One of the issues that holds some people back from purchasing an electric car is that they live in a condominium, apartment, or rental home where installing a charger is not possible. Others would be more interested if they could charge their cars during the work day.
"We are moving quickly to bring new EVs to market that customers will love," said GM CEO Mary Barra. "We know how important the charging ecosystem is for drivers, one that includes access to convenient and reliable public fast charging. Our relationship with EVgo will bolster the public fast charging network available to EV customers ahead of increased market demand."
The new EVgo fast chargers will be powered by 100% renewable energy, GM says. Earlier this year, General Motors committed to operating all of its factories in the US on renewable energy by 2030 and all of its factories worldwide on renewable energy by 2040. In 2019, EVgo became the first North American charging company to contract for 100% renewable energy to power its chargers. It currently has 800 fast chargers in its public network.
EVgo CEO Cathy Zoi says there are about 10,000 public chargers in the United States now, but eventually the country will need 50,000 chargers as the EV revolution continues. "So even though we have a lot of chargers in California, there's not enough, California is a big market," Zoi says.
"What we're doing today is important and a gigantic step forward in the piece of the puzzle as the nation steps forward to be all electric." She adds that right now, 115 million Americans live within a 15-minute drive of an EVgo fast charging station.
GM will introduce an SUV version of the Bolt in 2021, although whether it will be able to charge any faster than its sibling is unknown at this time. It is also hard at work on its first electric pickup truck which will be marketed under the Hummer brand, and is set to reveal the Cadillac LYRIQ, that brand's first battery electric car.
"Electric vehicles will make the world a better place today and for years to come," Mary Barra says. "That's why we're aggressively going after the charging station EV infrastructure, because we need millions more EVs on the road." Now to see whether GM can actually sell some of its spiffy new electric cars to the motoring public.
---
---