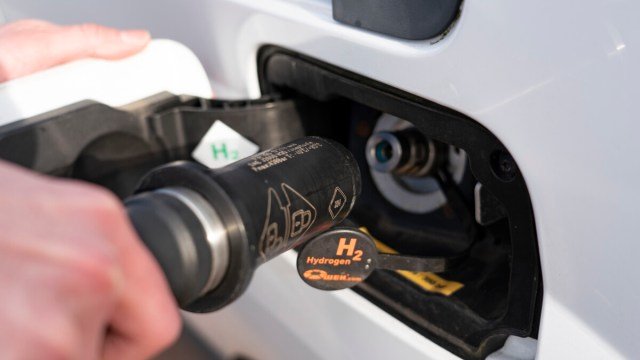 The £2.25 million project will allow more cars and vans to be powered by hydrogen fuel. Hydrogen technology firm Logan Energy has been selected to supply two of the first publicly-accessible hydrogen refuelling stations in Teesside.
In a company-first, the Edinburgh-based firm will supply fuel-cell quality hydrogen for vehicles in addition to delivering and operating two new Hydrogen Refuelling Stations to accommodate for an increasing local demand.
The initial four-year contract is part of a UK Government project, funded by the Office for Low Emission Vehicles' (OLEV) Hydrogen for Transport Fund, which aims to deliver five new hydrogen refuelling stations across the UK.
Of the five refuelling stations funded by OLEV, a joint proposal from the Tees Valley Mayor and Combined Authority, the Materials Processing Institute, and Northern Gas Networks successfully bid £1.3 million to have two located across Teesside.
One of these will be located at the Materials Processing Institute site in Middlesbrough.
In an area that is responsible for more than half of the UK's hydrogen production, the Tees Valley Mayor and Combined Authority are seeking to accelerate the roll-out of zero emission vehicles and associated infrastructure amid plans to achieve its decarbonisation goals.
It is believed that the hydrogen industry could regenerate the Teesside economy, create as many as 1000 jobs and contribute up to £7 billion to the region by 2050. Logan Energy said it hopes to extend this work further as both the network of HRS and number of hydrogen-fuelled vehicles increases across the Tees Valley and the UK.
The company has successfully supported the development and deployment of zero emission technologies throughout the UK and Europe. In Northern Ireland it is now responsible for the entire hydrogen production, distribution and refuelling process for the Belfast Bus Project.
Commenting on the contract win, Bill Ireland, CEO of Logan Energy, said: "This initiative provides an opportunity for Logan Energy to leverage its industry experience and deliver its first commercial hydrogen supply and refuelling contract for passenger vehicles.
"Tees Valley has a long and successful relationship with hydrogen energy that is unparalleled across the UK." Ireland added: "It is an ideal location to demonstrate a viable, renewable hydrogen supply-and-demand scenario that has the potential to be replicated not just regionally but in towns and cities throughout the UK, Europe and further afield."
Tees Valley Mayor Ben Houchen said: "Hydrogen is vital to our clean energy plans across the region and we are now well placed to see the successful delivery of this pioneering technology which will benefit the people of Teesside, Darlington and Hartlepool.
"Working together, we can drive a stronger economy which will put us at the forefront of innovative, clean technologies that will be essential in helping us meet our net zero objectives and create high-quality careers for local people for decades to come."
Earlier in 2020, Logan Energy opened the first public hydrogen refuelling station (HRS) for vehicles in Scotland's Central Belt. At this time, it offered the only publicly accessible refuelling stop between Aberdeen and Sheffield.
Logan Energy said it hopes the installation of the Teesside refuelling stations will encourage more Brits to consider hydrogen vehicles in future.
---
---