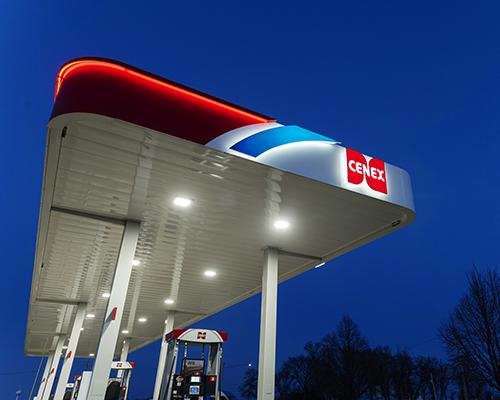 CHS Inc.'s Cenex convenience store brand is getting a new look, both at the forecourt and inside the store, through a new initiative dubbed LIFT, which stands for lighting, image and facilities transformation.
The program is designed to revamp Cenex locations through a series of updates, while giving the independently owned and operated locations the freedom and flexibility that suits them, according to Akhtar Hussain, CHS' director of refined fuels marketing.
"We know that in the convenience store business, consumer expectations have really evolved over the past five to seven years. They require more," said Hussain CHS spent roughly 18 months planning the LIFT initiative before kicking off its pilot stage this June.
The starting point was taking a thorough look at the company's present image and then considering what it could be. "How can we modernize and bring our image to the next level?" Hussain asked.
CHS found that it made the most sense to focus on two key elements: an attractive forecourt that looks great and draws people in; and a quality in-store experience.
To tackle the first element, the company developed a forecourt image upgrade program, now known as HALO, which focuses on attractive, energy-efficient lighting updates. New canopy elements include fascia with red accent lighting, a three-dimensional backlit blue arch sign and Cenex logo signs, and canopy column painting.
The forecourt itself and main ID sign include new dispenser graphics, curb and bollard painting, Cenex main ID sign faces, price sign digits, product inserts, and main ID sign painting.
The forecourt image changes are particularly effective at night, when the new lighting "pops," Hussain noted.
HALO is a required image upgrade for all Cenex locations, while the in-store portion of the LIFT initiative allows for more variation. CHS is offering zero-percent loan financing for qualifying in-store improvements that enhance the customer experience and improve safety. CHS Capital is funding the loans, and has a list of preferred supplier programs and discounts to assist operators.
Unlike the uniform visual changes at the forecourt, Cenex's independent operators can decide what in-store upgrades make sense for their individual locations. Eligible remodel categories include:
Single or multi-use bathroom; Checkout counter; LED lighting (ceilings and forecourt); Reach-in or walk-in coolers; Countertops and cabinets; Remodel entryway and building fascia; Interior panting; and Category signage.
Additional in-scope opportunities are depreciable in-store items and necessary materials, and components related to remodel categories such as c-store capacity coffee machines, additional internal shelving and signage, and a refreshed main floor.
The LIFT initiative is a four-year program, with the pilot stage running through August. CHS hopes to have approximately 30 stores onboard during this initial period, after which the goal is to upgrade 320 to 350 locations each year to reach its completion goal.
"They'll have four years to look at the opportunity, and can engage in loan funding at any time," Husssain explained, pointing out that the operator response has been "very positive" so far despite the economic disruption caused by the COVID-19 pandemic.
"People are looking at it as the one positive thing right now," he said. "They're really excited to have the store improved." Based in Inver Grove Heights, Minn., CHS Inc. has more than 1,450 retail locations.
---
---