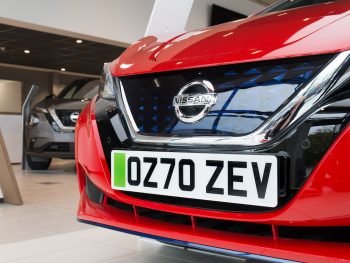 Nissan dealers are fitting new 70-plate electric cars with green number plates, previewing their introduction later this year.
First suggested two years ago and greenlighted in June this year, the plates will help identify electric cars, enabling councils to adopt incentive schemes such as cheaper parking and free entry to zero-emission zones.
They're also expected to help encourage a shift among drivers, as already seen in Canada, China and Norway, which run similar schemes. Transport Minister Grant Shapps has said they could "increase awareness of cleaner vehicles on our roads and show people that a greener transport future is within our grasp".
While an exact date for the introduction of the green number plates is yet to be announced, the Department of Transport has confirmed they will arrive this autumn.
But the plates, which feature a green flash, are already being trialled at Nissan dealers to pave the way for their introduction.
A Nissan spokesman said: "Anything that encourages electric vehicle use is to be encouraged and we think the green plates will prove incredibly useful in terms of raising awareness of the benefits of emission-free motoring."
---
---