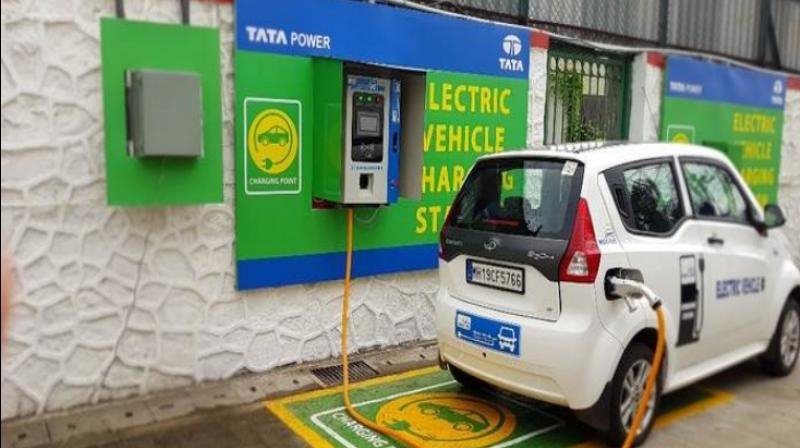 Recent Indian news reports have claimed the government may issue orders obliging petrol station owners to install a total of 69,000 electric vehicle charging kiosks at petrol pumps across the country.
A Bloomberg Quint report says RK Singh, India's minister for new and renewable energy and power, told top oil ministry officials that "they may issue an order for their oil marketing companies under their administrative control for setting up charging kiosks at all [Company Owned Company Operated (COCO)] petrol pumps".
The unnamed source also reportedly claimed the meeting suggested other franchisee petrol pump operators may also be required to have at least one EV charging kiosk at their fuel stations.
Existing oil ministry guidelines require all new petrol pumps have an option for an alternative fuel, and according to the unnamed source, "Most of the new petrol pumps are opting for electric vehicle charging facility under alternative fuel option. But it will make huge difference when the existing petrol pumps would also install EV charging kiosks."
If true, India's existing 69,000 petrol pumps would be required to add EV charging, dramatically scaling up the number of EV charging points across the country. This would go a long way to removing one of the main barriers for EV entry, namely the lack of charging infrastructure.
"Key factors for large-scale adoption of EVs in any market are adequate battery charging or swapping infrastructure and technology, affordable vehicles, plenty of models to choose from, conducive/strict policies and high awareness," said Animesh Kumar, Director of Automotive Consulting at GlobalData, a leading data and analytics company.
The Indian automotive market now has a wide product portfolio of EVs including affordable two-wheelers, electric cars as well as vehicles for public transportation. A vehicle scrappage policy, which is likely to encourage replacement of older vehicles with EVs, is also on the cards. However, the creation of adequate charging/swapping infrastructure is a key hurdle that India needs to overcome.
A key challenge for the creation of battery charging or swapping infrastructure is lack of availability of space. Hence, the government's plan of deployment of charging stations across fuel stations makes absolute sense as it will be easier to implement and help in the creation of robust charging infrastructure.
"Improvement in charging infrastructure will lay strong foundation for increased uptake of electric two-wheelers and passenger cars," Kumar added, explaining that India's electric "two-wheeler market has significant potential and the market has witnessed the entry of new players, which are focusing at offering affordable e-mobility both for personal and shared business models, such as delivery business and bike sharing.
---
---