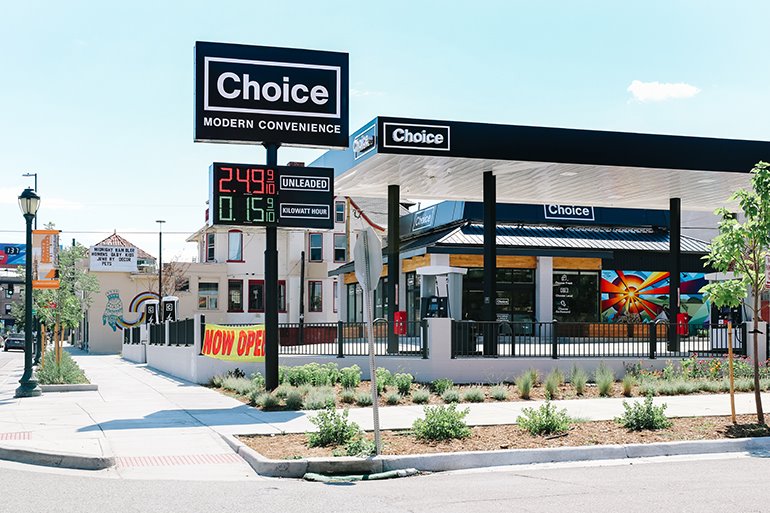 The Denver-based c-store operator plans new locations and shipping-container automated c-stores.
Choice Market, an omnichannel convenience store operator whose mission is to make good food accessible and convenient for all, launched a new mobile app, e-commerce website, same-day delivery via electric vehicles or e-bikes and a loyalty program.
It's part of a growth strategy that includes the Denver-based company's first location outside of Colorado plus the launch of fully automated shipping container c-stores. With the launch of the new digital experience, Choice customers can shop for groceries, prepared foods and alcohol by dietary lifestyle, local suppliers or recipe and will receive personalized offers based on their shopping history, Choice said.
"You could pick a recipe, hit a button, and add what you need to the cart to make that recipe," Mike Fogarty, founder and CEO of Choice Market, told 5280.com. "There are a lot of cool features we're integrating into the platform," he said. Customers can order any item from Choice's diverse selection for same-day contactless pickup or for "e-delivery" leveraging a fleet of electric vehicles and e-bikes.
Founded in 2017, Choice operates three convenience stores in the Denver metro area with an additional location opening by the end of the year. Choice opened its third Denver location in mid-July.
Starting with its fourth site, Choice will offer a frictionless experience in which customers can use their mobile app to pre-order prepared food, scan a QR code upon arrival, grab their groceries and leave without ever checking out. The c-store also will include a fast-casual café.
Choice also announced it has secured financing to help fuel its growth. In 2021, Choice plans to launch fully automated stores inside shipping containers that can be placed anywhere, Fogarty told 5280.com. Also on tap: the company's first out-of-state location and at least four more locations in the Denver metro area during the next two years. Fogarty didn't specify the locations of the new stores.
In 2019, NACS the Choice Market concept in the NACS Ideas 2 Go program. The NACS Ideas 2 Go program captures insights from convenience and fuel retailers who are creating innovative consumer experiences by staying ahead of the everchanging retail landscape. See more from Fogarty and the Choice Market team in Ideas 2 Go.
Choice recently added new board members, Martin Dolfi and Jason Kastner, who bring a wealth of knowledge and experience in scaling high growth consumer brands, Choice said. Dolfi is the managing partner of M3Ventures, a consumer-brand-focused investment firm based in New York.
---
---