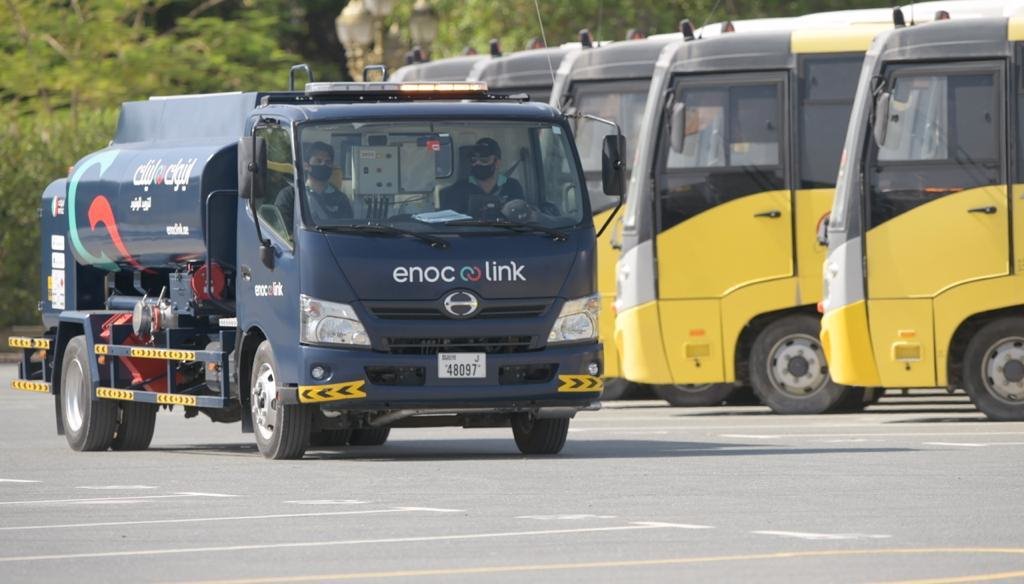 As some schools in Dubai have opened to receive students for the new academic year, ENOC Link signed an agreement with the Roads and Transport Authority's Dubai Taxi Corporation (DTC) to offer safe and contactless mobile fuelling services for its school buses fleet.
ENOC Link trucks will be dedicated to fuel a fleet of over 500 school buses at DTC parking during the off-peak hours to meet their demand for Diesel and Special 95, thereby enabling the fleet to start school pickups without any downtime.
In addition, refuelling the bus fleet in a unified premises will significantly lower trips to traditional service stations to refuel, thus reducing carbon emissions and traffic on the roads.
Commenting on the agreement, His Excellency Saif Humaid Al Falasi, Group CEO, ENOC, said: "We take pride in our ability to offer our customers best in class services and solutions that meet their needs and enhances operational efficiencies.
Establishing ENOC Link as a digital venture has enabled us to offer convenient, technology-driven fuelling services to our partners operating across various sectors. Our agreement with Dubai Taxi Cooperation will enable us to contribute to facilitating the back-to-school process while offering safe and efficient fuelling services."

Dr. Yousif Al Ali, CEO of DTC said: "We are pleased to work with a leading company in the energy sector such as ENOC. We are constantly looking for ways to improve and enhance our services to meet the demands of our local community.
Our ability to offer safe and reliable bus transport system for students and to be the largest provider of school transportation is something we pride ourselves on. Through this partnership, we hope to enhance operational efficiencies our transportation means; especially for our school bus operations."
A team of highly trained operators continues to adhere to social distancing and other guidelines issued by the UAE Health Authorities during the fuelling process and continue to use Personal Protective Equipment kits, including face masks and sanitisers.
ENOC Link is a mobile fuelling concept that is part of Next, ENOC Group's accelerator programme, that provides safe delivery of petrol and diesel to businesses.
ENOC Link offers an end-to-end digital fuelling experience along with advanced fuel analytics, fleet management, and mileage reporting. Customers of commercial fleets will also have access to an online dashboard to track fuel consumption on an aggregated level, by site, and even by vehicle or an equipment.
ENOC Link's fleet of purpose-built vehicles are tested and certified to the highest standards, equipped with integrated smart meters and operated by fully trained drivers and operators carrying the same high-spec fuel products sold through ENOC's traditional service stations.
---
---