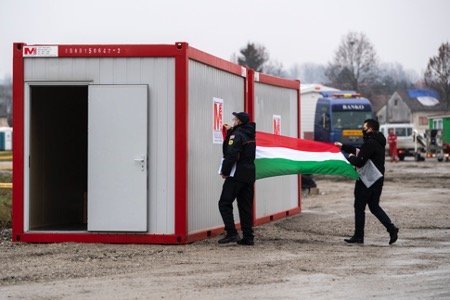 Budapest-based MOL Group has provided immediate help to the victims of the earthquakes in Croatia by shipping 50 mobile homes and six sanitary containers to Sisak-Moslavina County.
The aid package worth €125,000 will provide temporary accommodation and sanitation for those whose lives have been devastated by the earthquakes. The first containers arrived in Petrinja already.
MOL, as the largest foreign investor in Croatia, has expressed responsibility for all those who have suffered due to the earthquake, especially those in the Sisak region. MOL Group operates an industrial centre in Sisak, where more than a thousand of the company's employees live. MOL's immediate action in co-operation with the Croatian Civil Protection Directorate is set to bring relief to those families worst affected by this natural disaster.
CEO József Molnár said: "At the MOL Group our focus is on providing compassionate help to victims of the earthquake in Croatia. As the largest foreign investor in Croatia, we consider it a priority to help the Croatian people in this difficult situation.
Residential buildings have been subject to extensive damage, so adequate housing must be made available to families as soon as possible. Many of them work in agriculture, particularly with livestock, so they need a solution that enables them to stay close to their homes and animals.
Therefore, cooperating with the local Civil Protection Directorate, we have provided 50 heated mobile homes and 6 sanitation units for those in need. While reconstruction is in progress, these mobile homes will offer a lifeline to those people who lost their homes."
MOL Group member companies and employees are also actively participating in ongoing aid activities in the areas affected by the earthquake. INA, which has suffered minor damage, and its subsidiaries provided caravans and containers that served as additional temporary accommodation for 100 people.
They also offered fuel, disinfectants and gas cylinders while employees actively collected clothing and food delivered to the Croatian Red Cross.
---
---