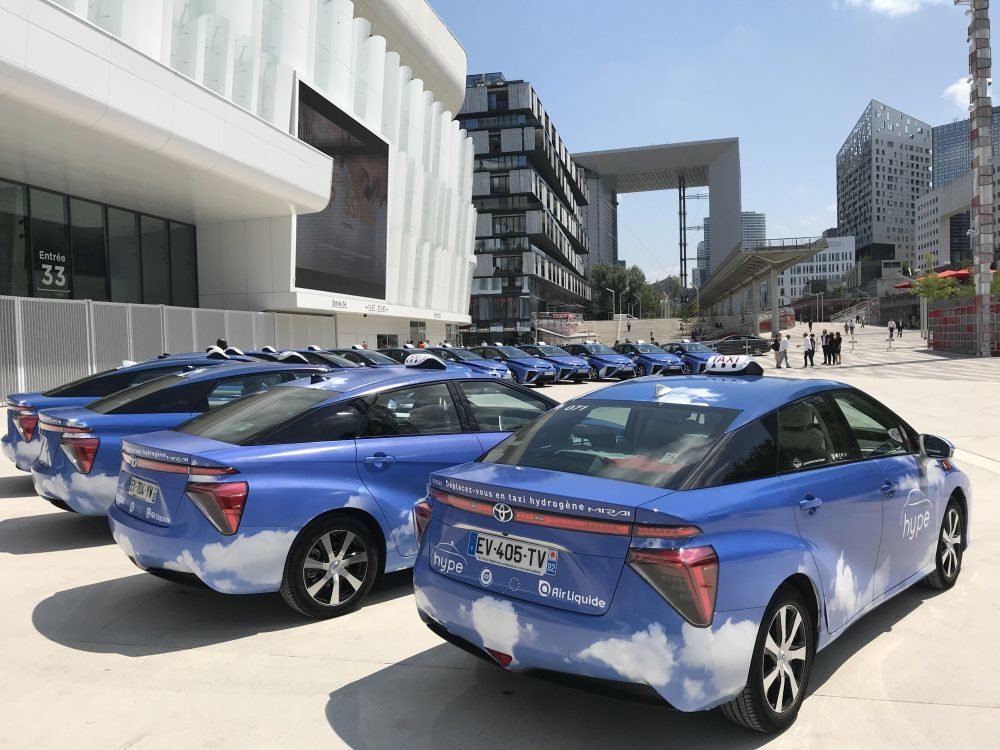 Slota Group's fleet of diesel taxis in Paris is set to be replaced by hydrogen-powered Toyota Mirai's by the end of the year.
The plans were announced along with the news that Slota Group has been acquired by HysetCo, an asset management firm which owns the world's largest fleet of hydrogen taxis, operated by Hype.
Operated by Hype, the new hydrogen-powered fleet will be supported by two new hydrogen refuelling stations which will be added to the existing network this year, including one at Porte de Saint-Cloud, on a site operated by the City of Paris.
According to a press release, the rollout will receive financial support from the ADEME, as well as the Île-de-France Region and the Fuel Cells and Hydrogen Joint Undertaking (FCH JU).
HysetCo plans to operate approximately 20 hydrogen stations by 2024.
Loïc Voisin, President of HysetCo, said, "We are delighted to add Slota's skills and recognised know-how to HysetCo's unique offering, which combines infrastructure, vehicles, and the use of the world's largest fleet of hydrogen taxis."
"At this key stage, HysetCo is confirming its innovative positioning at the cutting-edge of zero emission hydrogen urban mobility, as well as its strong growth momentum contributing to pollution-free cities today and in the future."
To help finance both the acquisition and the two hydrogen refuelling stations, HysetCo and Hype put together a group of leading financial partners, including RGREEN INVEST, Mirova, RAISE Impact and Eiffel Investment Group. Air Liquide also increased it commitment.
As a result of the fundraising campaign, HysetCo and Hype raised over €100m in investment.
Commenting on the news, Pierre-Étienne Franc, Vice-President of Air Liquide's Hydrogen Energy World Business Line, said, "With the acquisition of this key player in Parisian taxis, Hype/HysetCo is taking an important step in the transition to clean mobility using hydrogen."
"Since 2015, Air Liquide is proud to support this project, which is now entering a new phase of development in the Île-de-France region, and will help support the deployment of the project in new geographies."
Frank Marotte, CEO of Toyota France, added, "This acquisition will demonstrate, on a large scale, that a new model for shared, zero emission mobility is possible. This initiative will create the largest fleet of taxis in the world using energy as a hydrogen as an energy source."
"We are particularly proud to be involved, and thus to increase Toyota's investment in France. France, which is already home to our production, commercial, and design activities, will now showcase Toyota's know-how in terms of hydrogen mobility around the world.
More generally, for Toyota, it is an important contribution to the path that will make us a zero-emission mobility society."
---
---