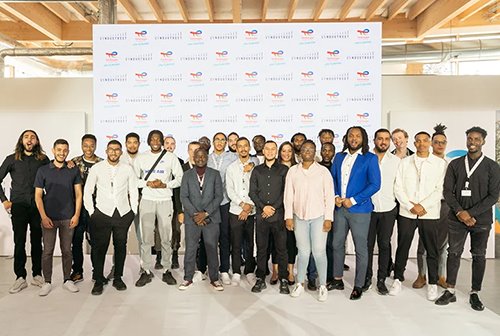 During Patrick Pouyanné's visit to the L'Industreet campus in Stains on September 19, TotalEnergies celebrated two events illustrating its commitment to youth training and job opportunities: the first to deliver professional certification to 30 learners at L'Industreet, and the second to inaugurate the Iron Academy, a new production school located just next door.
Professional certification for 30 learners at L'Industreet
30 learners at L'Industreet received their certifications, twice as many as at the first ceremony in March 2022. In all, 50 young people have been certified since the school opened in 2020 and more than 90% of them have found a job or decided to pursue their studies, proving that the training model developed and financed by Fondation TotalEnergies works. The campus located in Stains, north of Paris, is scaled to provide up to 400 young people (age 18 to 30) a year with tuition-free training in the industrial professions of tomorrow, with the following objective: one young person one job. L'Industreet delivers innovative, personalized, hands-on training to young people.
Inauguration of a New Production School Near Paris
As a partner and financial supporter of France's national federation of production schools, Fondation TotalEnergies was also celebrating the inauguration of the Iron Academy, a brand new production school located next to L'Industreet. The Iron Academy provides tuition-free training in iron and metal working to young people age 15 to 18.
Fondation TotalEnergies has been supporting the development of this network since 2018 through a €60 million, ten-year partnership designed to lift the number of production schools from 25 to 100 by 2028. Ultimately, these schools are expected accommodate 4,000 students a year in 13 regions. Each learner receives five job offers on average after completing training.
---
---