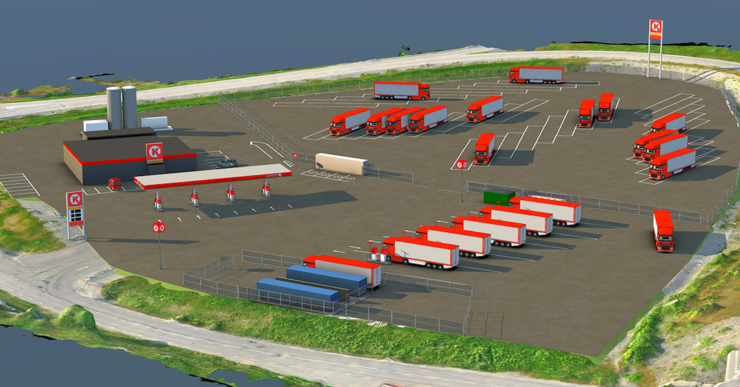 OG Clean Fuels and Circle K to collaborate on new hydrogen filling station.
OG Clean Fuels, in collaboration with Circle K, is building a hydrogen station for heavy traffic, at Vädermotet in the Port of Gothenburg. The location is strategically chosen next to the primary routes in and out of the port – Hisingsleden, 155 and the future Halvorslänken.
The venture to build a hydrogen filling station in the port is part of the Tranzero Initiative – an emission reduction initiative initiated by the Port of Gothenburg AB, the Volvo Group, Scania and Stena Line.
The aim is to accelerate the transition of the transport sector to fossil-free alternatives such as green hydrogen. The focus is on land transport as well as maritime transport.
Marcel Borger, founder and CEO of OG said: OG Clean Fuels is committed to contributing to a cleaner planet, and this is an important step on that journey.
"We want to be a leading player in hydrogen in Europe and this project fits in with our strategy. Going forward, we will continue to invest heavily in CBG, LBG, hydrogen and EV's".
Circle K is in the midst of a major expansion of electric charging, with a threefold expansion rate. The station at Vädermotet will initially have 6 charging points for heavy traffic, and is built from a truck perspective, which means good turning radius and that all charging points can be accessed from several directions by different types of trucks. The Vädermotet will also be Circle K's first hydrogen station.
Lennart Olsson, responsible for charging heavy traffic at Circle K, said: The Vädermotet station will be the new hub to facilitate the transition from fossil to electric and alternative fuels for heavy traffic.
"We are incredibly proud of what we have achieved here, and are really looking forward to continuing the journey towards sustainable conversion together with OG Clean Fuels and the hydrogen that will soon be available at the Vädermotet".
OG Clean Fuels currently operates 3 hydrogen stations in the Netherlands, with a fourth project in Hoofddorp/Schiphol having just started and the main components having just been installed.
Nilsson Energy is also planning to build a hydrogen filling station at the Gothenburg RoRo Terminal in the Port of Gothenburg.
Viktor Allgurén, Head Of Innovation – The Port of Gothenburg, said: The most important thing about having two stations is the security that it will be possible to refuel hydrogen in the port without interruption, regardless of whether one station would be closed for maintenance or similar.
"It creates a robustness in the infrastructure that is a crucial factor for hauliers considering converting parts of their fleets to fuel cell operation."
---
---