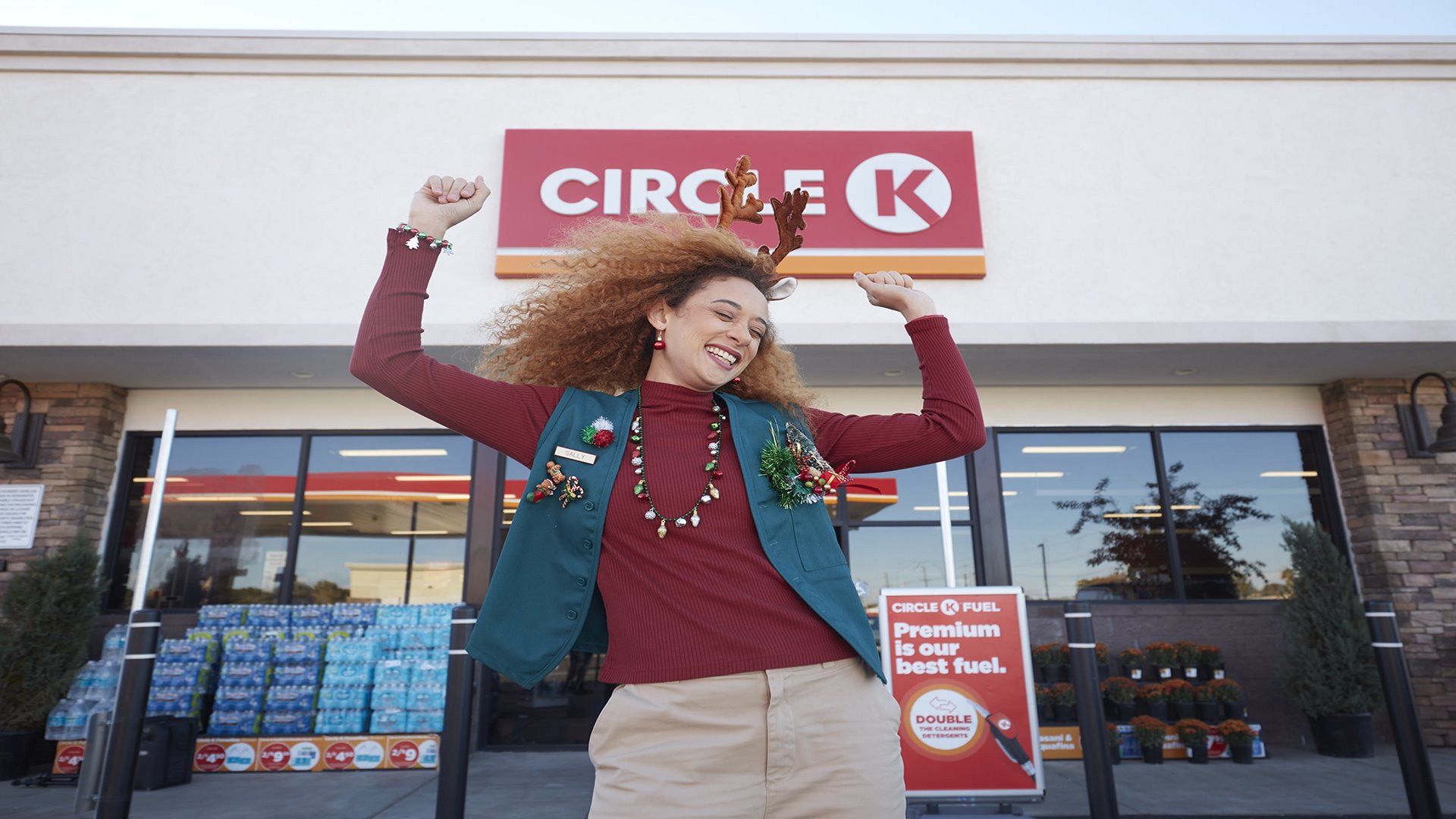 Alimentation Couche-Tard Inc. has launched its Circle K convenience-store brand's first U.S. nationwide advertising campaign, "Fueled by Circle K."
Running over the next year, the campaign focuses on Circle K fuel, which is now available in more than half of its more than 7,000 U.S. locations.
The campaign will run primarily on digital streaming and social media channels, taking a customer-centric approach in the four-part ad series that showcases different customers, their fueling experiences and how Circle K "has everything they need for their journey," the company said.
The first ad of the year-long campaign is holiday themed, featuring actual Circle K employees alongside a variety of Circle K customer personalities, from delivery drivers to Santa's helpers.
The ad also features user-generated content from actual Circle K customers, and an original festive jingle to get customers in the holiday spirit.
"With the continued growth of Circle K in the U.S. and the expansion of Circle K Fuel reaching close to 4,000 stores by mid-next year, now is the right time to introduce our first national fuel campaign," said Melissa Lessard, head of North American marketing.
"As a major milestone for our brand, we want the 'Fueled by Circle K' campaign to celebrate our valued customers and show how they can trust the quality of Circle K fuel to support them on their journeys as well as enjoy so many customer favorites in store."
To continue showcasing real customers throughout the campaign, Couche-Tard is inviting fans to share how Circle K is part of their life for a chance to be featured in future ads or social media posts, plus the opportunity to win fun prizes.
To enter, customers post to social media using #MyCircleK or upload their photos and videos directly to the My Circle K website.
Laval, Quebec-based Couche-Tard's 24-country global c-store network includes approximately 9,300 locations in North America, with more than 7,100 in the United States, primarily under the Circle K and Holiday Stationstores banners, and approximately 2,100 in Canada under the Circle K, Mac's and Couche-Tard banners. Its U.S. marketing office is in Charlotte, N.C.
n Europe, under the Circle K and other banners, Couche-Tard operates a retail network in Scandinavia, Ireland, Poland, the Baltics and Russia including more than 2,700 stores and unmanned automated fuel stations.
And under licensing agreements, more than 2,200 stores operate under the Circle K banner in 15 other countries and territories (Cambodia, Egypt, Guam, Guatemala, Honduras, Hong Kong, Indonesia, Jamaica, Macau, Mexico, Mongolia, New Zealand, Saudi Arabia, the United Arab Emirates and Vietnam).
This brings Laval, Quebec-based Couche-Tard's worldwide total network to approximately 14,300 mostly Circle K-branded c-stores, of which approximately 10,900 offer motor fuel.
---
---